Five Minutes a Day to an Upgraded Therapy Practice: Transtheoretical Tips to Help You Make the Most of Each Session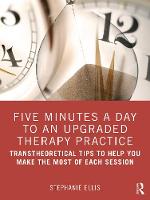 Book Details
Publisher : Routledge
Published : 2021
Cover : Paperback
Pages : 224
Category :
Individual Psychotherapy
Catalogue No : 95835
ISBN 13 : 9780367636142
ISBN 10 : 9780367636
Reviews and Endorsements
"If you want to continue to advance your skills and confidence as a therapist - but don't want to add yet another 'approach' or 'technique' to your already overstuffed toolkit - this is the book for you. Ellis works on the assumption that you already have the knowledge and resources you need to be an effective therapist, and she provides a treasure trove of useful tips and easy-to-practice exercises to help you strengthen your therapeutic muscles and further refine your therapeutic techniques. There's a reason we call what we do a 'therapy practice' - and although in our profession practice will never make perfect, it will certainly make you better - and Ellis's nuggets of wisdom will certainly help you get there." - Victor Yalom, PhD, founder and CEO of Psychotherapy.net.


"I don't know how she did it, but Stephanie Ellis managed to cram half a graduate program's worth of foundational research on psychotherapy into a book that weighs less than a bag of coffee beans, and by some magic it reads more like an engaging mystery novel than a textbook! This book is everything you could hope for - knowledgeable and practical, challenging in the way that brings out your best, and lighthearted and endlessly entertaining." - Scott Barry Kaufman, PhD, host of The Psychology Podcast, author of Transcend: The New Science of Self-Actualization.


"Stephanie Ellis provides a relational approach to help therapists better themselves. Up-to-date information. Engaging read. Easily incorporates methods to improve your practice regardless of preferred theory or level of experience." - Jeffrey K. Zeig, PhD, director of the Milton H. Erickson Foundation.


"A valuable resource for new and experienced therapists alike, each chapter of Five Minutes a Day to an Upgraded Practice directs you to the foundational elements of effective psychotherapy, next-level nuances of theory and practice, and pragmatic ways to apply these concepts right away. If you want to improve as a therapist, use the advice we give to our clients and make small, consistent, and meaningful changes, and read one short chapter a day of this engaging, informative book." - Joel Minden, PhD, psychologist, author of Show Your Anxiety Who's Boss: A Three-Step CBT Program to Help You Reduce Anxious Thoughts and Worry.


"Dr. Stephanie Ellis's masterfully written book is an excellent guide for therapists in all stages of their careers. In a fun and engaging manner, Dr. Ellis describes the bedrock concepts of the field and then transforms each principle into a practical tip. The wisdom throughout the book will be especially useful to novice therapists seeking powerful ways to enhance patient care." - Kathryn H. Gordon, PhD, clinical psychologist, author of The Suicidal Thoughts Workbook: Cognitive-Behavioral Therapy Skills to Reduce Emotional Pain, Increase Hope, and Prevent Suicide.