First Do No Harm: The Paradoxical Encounters of Psychoanalysis, Warmaking, and Resistance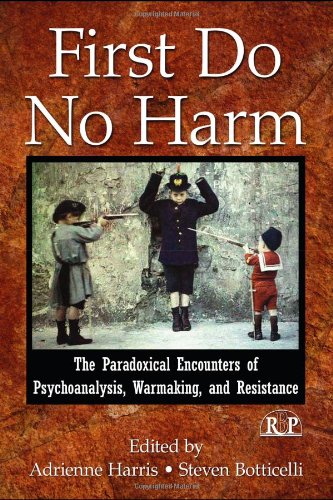 Book Details
Publisher : Routledge
Published : 2010
Cover : Paperback
Pages : 384
Category :
Psychoanalysis
Catalogue No : 29542
ISBN 13 : 9780415996495
ISBN 10 : 041599649X
Also by Adrienne Harris
At the outset of World War I - the "Great War" - Freud supported the Austro-Hungarian Empire for which his sons fought. But the cruel truths of that bloody conflict, wrought on the psyches as much as the bodies of the soldiers returning from the battlefield, caused him to rethink his stance and subsequently affected his theory: Psychoanalysis, a healing science, could tell us much about both the drive for war and the ways to undo the trauma that war inherently breeds, but its principles could just as easily serve the enemy's desires to inculcate its own brand of "truth."
Even a century later, psychoanalysis can still be used as much for the justifications of warfare and propaganda as it is for the defiance of and resistance to those same things. But it is in the investigation of the motives and methods behind these uses that psychoanalysis proves its greatest strength. To wit, this edited collection presents published and unpublished material by analysts, writers, and activists who have worked at the front lines of psychic life and war from various stances. Set at a point of tension and contradiction, they illustrate the paradoxical relation of psychoanalysis as both a site of resistance and healing and a necessary aspect of warmaking, propaganda, and militarism. In doing so, we venture from the home front - from the trauma of returning veterans to the APA's own complicity in CIA "black sites" - across international borders - from the treatment of women in Latin American dictatorships to the resistance to occupation in Palestine, from mind control to an ethics of responsibility. Throughout, a psychoanalytic sensibility deconstructs the very opposition that it inhabits, and seeks to reestablish psychoanalysis as the healing discipline it was conceived to be.
About the Editor(s)
Adrienne Harris, Ph.D. is faculty and supervisor, NYU Postdoctoral Program in Psychotherapy and Psychoanalysis, Faculty and Training Analyst at the Psychoanalytic Institute of Northern California, serves on the Editorial Boards of Psychoanalytic Dialogues, Studies in Gender and Sexuality, Psychoanalytic Perspectives and the Journal of the American Psychoanalytic Association.
You may also like