Final Chapters: Writings About the End of Life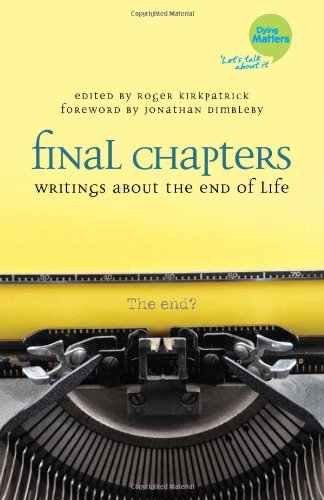 Book Details
Publisher : Jessica Kingsley
Published : 2014
Cover : Paperback
Pages : 128
Category :
Grief and Bereavement
Catalogue No : 35622
ISBN 13 : 9781849054904
ISBN 10 : 1849054908
This collection brings together 30 short stories and poems about dying and bereavement. Written by mothers, fathers, daughters, sons, wives, husbands and dying people, these moving pieces talk honestly about how it feels to care for someone who is dying, to grieve for a loved one, and to face death oneself.
A candid story about a daughter's relationship with her mother's carer; an internal monologue on dementia; a deeply moving poem about losing a son to cot death; and a heartfelt story about a mother's end of life are some of the poignant pieces included. This collection provides an opportunity to think and talk about death and dying, too often a taboo subject, and offers readers the rare comfort and support of shared experience.
The pieces in this collection were originally written for a competition run by the Dying Matters Coalition. Set up by the National Council for Palliative Care (NCPC) in 2009, the Dying Matters Coalition aims to help transform public attitudes towards dying, death and bereavement.
You may also like