Explorations in Bion's 'O': Everything We Know Nothing About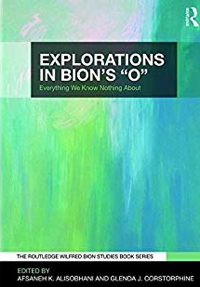 Book Details
Publisher : Routledge
Published : February 2019
Cover : Paperback
Pages : 360
Category :
Psychoanalysis
Catalogue No : 94059
ISBN 13 : 9780367001346
ISBN 10 : 0367001349
Wilfred Bion described 'O' as "the unknowable and the unreachable ultimate truth". In this fascinating collection, a range of authors offer their own theoretical, clinical, and artistic approaches to exploring this enduring but mysterious idea.
Drawn from contributions from the 8th International Bion Conference in 2014, the book examines how 'O' can be experienced in all aspects of internal and external reality and within all relationships, from an individual relating to the mother to their emotional relationship with their self. It features insights into 'O' drawn from the area of faith as well as its manifestations in clinical practice, while also included is a chapter exploring the links between Bion's ideas and those of Winnicott, Lacan, Green and Freud.
Featuring contributions from some of the world's leading Bion scholars, this will be essential reading for any psychoanalyst interested in exploring the concept of 'O', as well as scholars in philosophy and theology.
You may also like