Experiencing Endings and Beginnings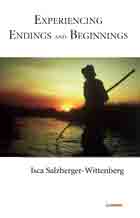 Book Details
Publisher : Routledge
Published : January 2013
Cover : Paperback
Pages : 208
Category :
Psychoanalysis
Catalogue No : 33546
ISBN 13 : 9781780491714
ISBN 10 : 1780491719
Also by Isca Salzberger-Wittenberg

Paperback
£29.69
In stock, despatched within 24 hours
Free UK Delivery over £25
This title has been delisted and is no longer available to purchase
Our Customers Average Rating
Read all reviews (1)





Throughout life we undergo many changes in our circumstances, beginnings and endings of relationships, gains and losses. This book highlights the emotional turmoil which, to a greater or lesser extent, accompanies these changes. It considers the nature of the anxieties aroused by a new situation and the ending of a previous state at various stages in life. Endings and beginnings are shown to be closely related, for every new situation entered into, more often than not, involves having to let go of some of the advantages of the previous one as well as losing what is familiar and facing fear of the unknown.
The author shows how all these aspects of change evoke primitive anxieties, stemming from our earliest experiences of coming into this world. While beginning life outside holds the promise of a wider, more enriching existence it involves the loss of the known, relative safety of life inside mother's body. Moreover, the human newborn is at first utterly helpless, totally dependent on others to keep him alive. It leaves him terrified of being abandoned and left to die. The loss of what is familiar, the fear of the unknown as well as the fear of being unable to manage on our own remain in the depth of our psyche throughout life and are re-evoked at times of life-changing events and to some extent by any ending and beginning. The book stresses the importance of examining the way these anxieties are dealt with by different individuals and those who look after them and what promotes or undermines mental, emotional and spiritual growth.
Freud, as well as stressing the importance of the "work of mourning" when someone we love and/or depend on dies, drew attention to the fact that mourning occurs in other situations, such as losing one's country, or an ideal. The author describes how bereavement affects young children, adolescents, young and old people. She also looks at all the ordinary endings in life such as the separation from mother when the child begins to go to nursery, leaving home to go to college, losing one's place of work at retirement, losing one's youth. She stresses how important it is to prepare and work through these and other losses for it is only if we continue to value and internalise the good aspects of the experiences we have had - rather than remain angry about what we have lost - that we are able to internalise and carry them within our heart and mind to sustain us through life, and remain open to appreciate the preciousness of living in the present.
Reviews and Endorsements
'Isca Wittenberg has become very well known for her original approach to thinking about beginnings and endings in life and as they appear and challenge us in clinical and teaching contexts. This book is the fruit of her long engagement with this topic, and it is a most engaging overview of the major transitions in the human life cycle. It is written with freshness and simplicity and offers the reader an encounter with a writer who draws on her personal and professional experience with freedom and zest. A book about everyday life by a far-from-everyday person, which I think will stimulate and charm many, because it imparts wisdom so lightly.' Margaret Rustin, Child and Adult Psychotherapist.

'[This is a] gem of a book. In her late 80's Isca Wittenberg writes as clearly as ever, distilling a lifetime's experience into a work of genuine wisdom. This book displays a deep psychoanalytic understanding of the lifecourse married with a searching and compassionate mind, and has the added bonus of fascinating autobiographical fragments from one of the luminaries of child psychotherapy.'- Graham Music, Consultant Child Psychotherapist, Tavistock and Portman NHS Trust.
About the Author(s)
Isca Salzberger-Wittenberg is a Consultant Psychoanalytic Child and Adult Psychotherapist who worked at the Tavistock Clinic for twenty-five years and was its Vice-Chairman for ten years. She was a Senior Tutor in the clinical training of child psychotherapists and a teacher of Infant Observation. She has lectured and run seminars in Austria, Germany, Italy, Norway, Spain, Sweden and the USA and run workshops in Australia and South Africa. She held temporary professorships at Turin and Klagenfurt University and is a life-long honorary senior staff member of the Tavistock. She now works mainly in private practice, doing brief and long-term psychotherapy, supervisions, is still teaching at the Tavistock and abroad. She has published articles in professional journals, contributed chapters to a number of psychoanalytic books and written two books: Psychoanalytic Insight and Relationships and The Emotional Experience of Learning and Teaching- the latter including chapters from Gianna Williams and Elsie Osborne. Both books have been translated into nine languages.
Customer Reviews
Our customers have given this title an average rating of 4 out of 5 from 1 review(s), add your own review for this title.
Anne Jeffs on 10/02/2015 12:43:07





(4 out of 5)
In the object relations psychoanalytic world, Isca Salzberger-Wittenberg, a Consultant Psychoanalytic Child and Adult Psychotherapist of long and deep experience, has become well known for her original approach to thinking about endings and beginnings in life. Experiencing Endings and Beginnings is testament to her long, sustained engagement with this topic, she is now in her nineties, and reveals a deep psychoanalytic understanding of universal aspects of the life course, written with a warmhearted immediacy that is engaging, wise and relevant. As she covers each phase of life, she keeps an eye on the infantile aspects of ourselves, taking as prototype the first ending- and beginning, as we leave the safety and security of the womb to enter the startling and unfamiliar non-aqueous world. An experienced infant observation seminar leader, Salzberger-Wittenberg emphasizes the quality of the first relationships, and their capacity (or not) to hold us through the transition from ending to beginning, and reflects on how this internalized experience continues to be re-evoked at every transition. Those familiar with the psychoanalytic theories of Melanie Klein, Wilfred Bion and Donald Winnicott, will recognize how deeply they have influenced her, however Salzberger-Wittenberg speaks to her audience in her own humane, non-technical, clear voice. Theory is at times referred to, but in a way that is so experience-close that it is brought to life not only for a general non-specialist readership and non-psychoanalytic clinicians, but also illuminates it freshly for experienced psychoanalytic therapists.
For the psychoanalytic therapists, it is a delight to have what we hope we do, written about with such erudition and love.
You may also like