Every Family Has A Story: How We Inherit Love and Loss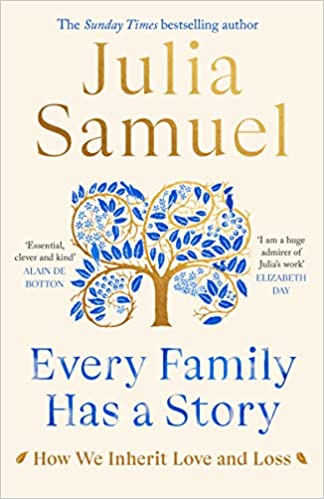 Also by Julia Samuel
Why do some families thrive in adversity while others fragment? How can families weather difficult transitions together? Why do our families drive us mad? And how can even small changes greatly improve our relationships?
In Every Family Has a Story, bestselling psychotherapist Julia Samuel turns from her acclaimed work with individuals to draw on her sessions with a wide variety of families, across multiple generations. Through eight beautifully told and insightful case studies, she analyses a range of common issues, from loss to leaving home, and from separation to step-relationships, and shows how much is, in fact, inherited -- and how much can be healed when it is faced together.
Exploring the relationships that both touch us most and hurt us most, including the often under-appreciated impact of grandparents and siblings, and incorporating the latest academic research, she offers wisdom that is applicable to us all. Her twelve touchstones for family well-being -- from fighting productively to making time for rituals -- provide us with the tools to improve our relationships, and to create the families we wish for.
This is a moving and reassuring meditation that, amid trauma and hardship, tells unforgettable stories of forgiveness, hope and love.
Reviews and Endorsements
Full of nuggets of wisdom - Jackie Annesley The Sunday Times

An essential, clever and kind book that reminds us that we can never hope to understand ourselves without deeply understanding our families. A testament to the ongoing relevance of psychotherapy and to Julia Samuel's preeminent skill as an author and therapist - Alain de Botton

Julia Samuel is so wise and compassionate. I love every word she writes and long for every reader - every person - to experience her unique and generous way of being in the world - Cathy Rentzenbrink

Julia Samuel brings her characteristic warmth, compassion and wisdom to the vital matter of how families function. She writes with unfailing grace, tenderness and consummate story-telling. Everyone who reads this will learn something profound - about themselves, their origins and the people they love most dearly - Dr Rachel Clarke

Julia Samuel offers us vivid insights into the way family structure, stories and experience exert their influence across generations. Here is a book for all families, where we can appreciate our own family's strengths and take courage to explore our hurts. The issues are so vibrantly explored that I was utterly drawn in. This is a book about love: a superpower when we use it wisely and well - Kathryn Mannix

Fascinating... Julia Samuel's compassionate work never fails to inform, comfort and make me think - Pandora Sykes

A wise and important book, full of insight into the pain and beauty at the heart of family life. Julia Samuel dives deep into familiar themes of loss, parenting, bereavement, divorce, all of which feature so heavily in the make-up of so many of our everyday lives. There is so much to learn in this book about what makes, breaks and mends a family, and I loved it -- Clover Stroud

Truly wonderful - wise, compassionate, thoughtful, and always inspiring. A very important book - Justine Picardie

Engaging, informative and very well written - Philippa Perry

A profoundly important and compassionate book for understanding family relationships much better. Highly recommended - Liz Earle

Absolutely BRILLIANT. Every family should read this. Clever and helpful - Anya Hindmarch

This is a wonderful, wonderful book . . . everybody needs to read it - Dr Rangan Chatterjee
About the Author(s)
Julia Samuel, MBE, is a leading British psychotherapist. During the last thirty years, she has worked first for the NHS and then in private practice. She is Founder Patron of Child Bereavement UK.
You may also like