Essential Listening Skills for Busy School Staff: What to Say When You Don't Know What to Say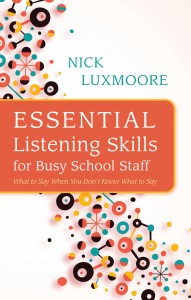 Book Details
Publisher : Jessica Kingsley
Published : 2014
Cover : Paperback
Pages : 96
Category :
Child and Adolescent Studies
Catalogue No : 36797
ISBN 13 : 9781849055659
ISBN 10 : 1849055653
Also by Nick Luxmoore

How do you listen to the boy in your class whose mother is dying? Or to the girl who's feeling worthless? How do you respond to a boy who feels like giving up? Or to a girl who's so angry that she's threatening to hit someone? As a member of staff in school, it can be hard to know how to help when pupils or colleagues turn to you for support. What if you don't know what to say, or there isn't enough time to stop and listen? How do you show that you understand? What about confidentiality?
This accessible book answers all these difficult questions, showing you how you can listen and respond effectively in order to provide support to those who need it. It also covers how to help in particular situations or with certain issues, such as bullying, relationship difficulties, depression, and self-harm. This handy guide will be invaluable to all those working in schools, helping staff to make the school environment supportive and happy, and pupils and staff to feel listened to, respected and safe.
About the Author(s)
Nick Luxmoore is a school counsellor, trainer, teacher, youth worker and UKCP registered Psychodrama psychotherapist. He has over 35 years' experience of work with young people and with the professionals who support them. He is the author of several books including School Counsellors Working with Young People and Staff: A Whole-School Approach, Working with Anger and Young People and Feeling Like Crap: Young People and the Meaning of Self-Esteem. He currently works as the Counsellor at King Alfred's Academy, Wantage, UK.
You may also like