Environmental Ethics: From Theory to Practice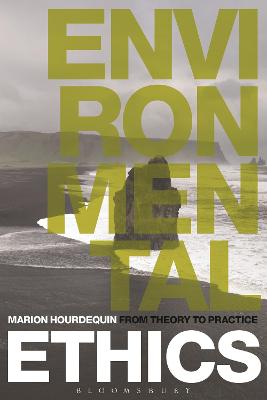 Book Details
Publisher : Bloomsbury Publishing
Published : January 2015
Cover : Paperback
Pages : 256
Category :
Climate Politics
Category 2 :
Environmental Studies
Catalogue No : 96462
ISBN 13 : 9781472510983
ISBN 10 : 1472510984
Environmental Ethics offers an up-to-date and balanced overview of environmental ethics, focusing on theory and practice. Written in clear and engaging prose, the book provides an historical perspective on the relationship between humans and nature and explores the limitations and possibilities of classical ethical theories in relation to the environment. In addition, the book discusses major theoretical approaches to environmental ethics and addresses contemporary environmental issues such as climate change and ecological restoration. Connections between theory and practice are highlighted throughout, showing how values guide environmental policies and practices, and conversely, how actions and institutions shape environmental values.
Reviews and Endorsements
"This terrific book delivers mostly on the subtitle. Hourdequin, who has a special interest in environmental ethics, divides the volume into two roughly equal parts-one on theory, one on practice ... One of the book's many strengths is the organic integration of Chinese philosophical views on self, relationships, and value; the author makes a good case for the need for a multicriterial ethical perspective on environmentalism ... Hourdequin writes with clarity, depth, and passion, so the book is suitable for nonspecialists. Summing Up: Recommended. Lower- and upper-division undergraduates; general readers" - K. Doran, Hamilton College

"What most distinguishes this text, as the subtitle suggests, is its emphasis on practical action ... Hourdequin presents a diversity of views sympathetically, explains them accurately and assesses them fairly. Her account of ecofeminism, for example, is among the clearest and most informative that I have read ... A very good book" - Environmental Values

"The great strength of the text is the variety of ethical approaches on offer ... Houdequin's book serves as a solid and broad introductory textbook to environmental ethics at an intermediate or senior undergraduate level" - Ethical Perspectives

"This well-written book works both as an introductory text as well as a review of the topic. The arguments and examples are helpful both for those readers interested in the theoretical background as well as for those more interested in the applied aspects. The examples are well chosen and well presented" - Ethical Theory and Moral Practice

"Hourdequin's book addresses environmental ethics from theory to practice through a series of well-structured and thought-provoking chapters. ... It stands out from the present-day rich panorama of works regarding environmental ethics and may significantly mark the horizon of future publications in the field" - Ethics, Policy & Environment

"It is outstanding and commendable as a textbook for both undergraduate and postgraduate alike ... In short, the book is a pleasure to read ... Written at a level that any intelligent layperson will appreciate and enjoy. It is an ideal basic introductory to environmental ethics ... The book is essential reading" - International Studies in the Philosophy of Science

"In addition to discussing the usual topics and themes, in this engaging new introduction to environmental ethics Marion Hourdequin draws on the insights of Chinese philosophy and focuses on such issues of contemporary concern as climate change, ecological restoration and the problem of defining sustainability" - Dale Jamieson, Professor of Environmental Studies and Philosophy, New York University

"Few philosophers and fewer environmental scientists could have written a book that combines a solid grasp of real ethical theory, a full understanding of the current state of the science, and the wisdom that Marion Hourdequin brings to Environmental Ethics. This work is not only an utterly accessible introduction to the field, but a magisterial assessment of the inescapable alternatives it confronts us with" - Alex Rosenberg, R. Taylor Cole Professor of Philosophy Department of Philosophy, Duke University

"This engaging and comprehensive introduction to environmental ethics combines directness and clarity with a depth of analysis and distinctiveness of approach that few texts in the field can match. The result is a feast for inquiring minds, an inspiration and aspiration for active ones; specifically, it helps us understand how an environmental ethic can become a lived ethic" - Alan Holland, Emeritus Professor of Applied Philosophy, Lancaster University
About the Author(s)
Marion Hourdequin is Associate Professor of Philosophy at Colorado College, USA. Her work in environmental ethics has appeared in a number of journals, including Environmental Ethics, Environmental Values and Ethics, Policy and Environment.
You may also like