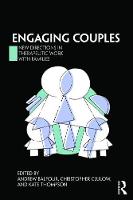 Book Details
Publisher : Routledge
Published : December 2018
Cover : Paperback
Pages : 272
Category :
Family, Couple and Systemic Therapy
Catalogue No : 93769
ISBN 13 : 9780367000042
ISBN 10 : 0367000040
Also by Christopher Clulow
Also by Kate Thompson

Also by Andrew Balfour
This book is a challenge to the silos in our human services that an 'atomized' focus gives rise to. They are evident in the chasm that can exist between child and adult mental health care, between competing therapeutic approaches and, most importantly for this volume, in the segmentation of support for adults who are partners as well as parents.
The contributors, all with substantial experience of providing front-line services, identify the problem their intervention is designed to address, provide a conceptual justification for the approach they have used and supply evidence for its effectiveness. Vivid illustrations bring the work to life and provide examples of best practice whose relevance can readily be transported to different settings. Unusual in bringing together approaches that encompass internal and external realities in responding to the challenges of physical constraint, emotional distress and an often-volatile social environment, the contributions are assembled to highlight a common thread that can inform services at different stages of the life course. Each chapter is accompanied by a commentary from specialists in their field who elucidate and critique the key points made by the authors and help the experience of reading the book to be one of dialogue.
Engaging Couples: New Directions in Therapeutic in Work with Families explores new ways of approaching some of the key issues of contemporary family life, including depression, living with long-term conditions, inter-parental conflict and domestic abuse to name but a few, refracting them through a lens that sees our relationships as fundamental to the fabric of our lives - the most important social capital of all.
It represents essential reading for clinicians and family practitioners of all persuasions, and those that train and support them in their work.
About the Editor(s)
Andrew Balfour is director of clinical services at the Tavistock Centre for Couple Relationships. He originally studied English Literature before going on to train as a clinical psychologist at University College London and then as an adult psychotherapist at the Tavistock and Portman NHS Trust, and as a couple psychotherapist at the Tavistock Centre for Couple Relationships (TCCR). He worked for many years in the adult department of the Tavistock Clinic where he specialised in old age and he has also been a staff member at TCCR since 2001. He has published a number of papers and has taught and lectured widely both in Britain and abroad.
Christopher Clulow, PhD, is a Senior Fellow of the Tavistock Centre for Couple Relationships, London, where he works as a visiting lecturer and researcher. He has published extensively on marriage, partnerships, parenthood and couple psychotherapy, most recently from an attachment perspective. He has a long history of contributing to thinking about the processes involved in ending relationships, and his most recent work has involved heading up a project identifying competences for treating depression through couple therapy under the Department of Health's Improving Access to Psychological Therapies initiative. He has also recently consulted to and evaluated interventions provided by a mental health agency to reduce depression in parents of young children. He is a founding member and past Deputy Chair of the British Society of Couple Psychotherapists and Counsellors and a member of the editorial board for the journal Couple and Family Psychoanalysis.
You may also like