EMDR Solutions II - For Depression, Eating Disorders, Performance and More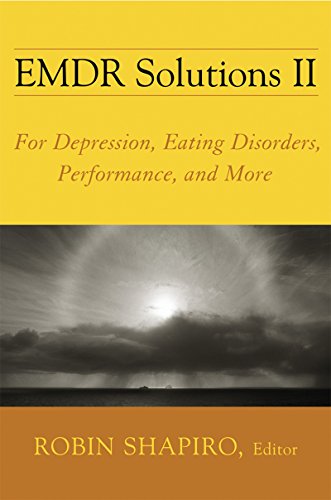 Book Details
Publisher : W.W.Norton
Published : January 2009
Cover : Hardback
Pages : 534
Category :
EMDR
Catalogue No : 28445
ISBN 13 : 9780393705881
ISBN 10 : 0393705889
Also by Robin Shapiro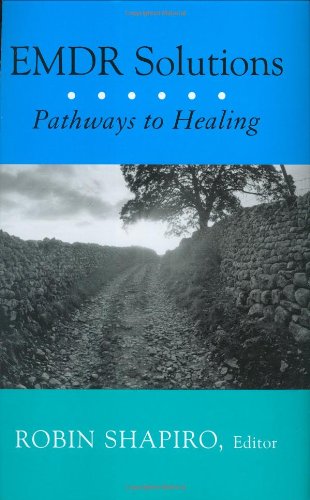 This book presents step-by-step treatment instructions for implementing EMDR approaches to treat a range of issues. Mixing a how-to approach with clinical wisdom, this book helps therapists excel when using EMDR.
Reviews and Endorsements
This edited collection is a follow-up to Robin Shapiro's "EMDR Solutions" (catalogue number 23037). Sections include:

A comprehensive compendium of EMDR interventions for depression, including assessment, trauma-based and Endogenous Depression chapters, Shame-Based Depression, and an Attachment-based chapter.

Eight chapters on Eating Disorders cover all the bases: from etiology to neurology through preparation phases and treatment strategies, showing how to work with Bulimia, Anorexia, Body Dysmorphia, Binge Eating Disorder, disorders of desire and more.

The Performance, Coaching, and Positive Psychology section emphasizes strengths, skills, focus, and whatever gets in the way of reaching the goal. Includes strategies for performance enhancement and how to integrate EMDR with coaching and positive psychology.

The Complex Trauma unit includes useful and user-friendly preparation methods and early trauma protocol, integrating EMDR with somatic and Ego State interventions, intrusive images, and treatment strategies for OCPD.

Contributors include:
Cheryl Clayton, Linda J. Cooke, DaLene Forester, David Grand, The Reverend Martha S Jacobi, Jim Knipe, Ulrich Lanius, Catherine Lidov, Judy Lightstone, Elizabeth Massiah, Janet McGee, Ann Marie McKelvey, Katie O'Shea, Sandra Paulsen, Ronald J. Ricci, Janie Scholom, Andrew Seubert

About the Editor
Robin Shapiro is in private practice in Seattle. She is known for her informative, user-friendly workshops, insightful clinical consultation, and is proud to serve on the board of the EMDR Humanitarian Assistance Program.
line


About the Editor(s)
Robin Shapiro, LICSW, is known for her clear, accessible, and practical style in writing, teaching and clinical consultation. She edited and contributed to EMDR Solutions: Pathways to Healing and EMDR Solutions II: Depression, Eating Disorders, Performance & More and wrote Trauma Treatments Handbook, and Easy Ego State Interventions. She loves her work: writing, presenting about ego states, EMDR topics, and suicide prevention, doing clinical consultation, and thirty-eight years of psychotherapy practice, especially around issues of trauma, anxiety, and attachment.
You may also like