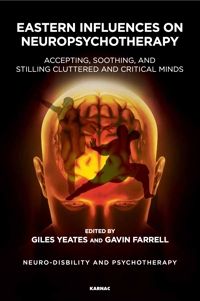 Book Details
Publisher : Routledge
Published : February 2018
Cover : Paperback
Pages : 256
Category :
Neuroscience
Catalogue No : 40481
ISBN 13 : 9781782206156
ISBN 10 : 1782206159
Also by Giles Yeates

Also by Gavin Farrell
This release marks the first in the new series of annual book publications that has evolved from the journal Neuro-Disability and Psychotherapy: A forum for the practice and development of psychological therapies for neurological conditions. These books will gather together new articles under a particular sub-theme related to the practice of neuropsychotherapy.
The first issue is a republication of the journal's special double issue on the application of Eastern-influenced psychotherapies for people with neurological conditions, along with two additional related articles that were subsequently published by the journal. Collectively, this publication showcases diverse and contemporary practice in neuropsychotherapy. These all share an influence of Eastern religious and philosophical practices, used to address the ever-present need for innovative adaptation to talking therapies in the face of heterogeneous and complex emotional and cognitive difficulties for those with acquired and progressive neurological conditions.
About the Editor(s)
Dr Giles Yeates is principal clinical neuropsychologist and also a couples psychotherapist at the Community Head Injury Service, Aylesbury. His clinical work involves psychological therapy and cognitive rehabilitation with survivors of brain injury in individual and group formats. In addition he works within the family service to provide couples and family sessions, including work with child relatives. Dr Yeates is also an active researcher and author within the areas of social neuroscience, interpersonal relationships, neuropsychoanalysis, social context, psychological therapies and qualitative research following brain injury.
Dr Gavin Farrell is the co-editor of the journal Neuro-Disability & Psychotherapy. He works as a Consultant Clinical Neuropsychologist in the NHS, in a community neuro-rehabilitation service. He completed Core Training in Intensive Short-Term Dynamic Psychotherapy (ISTDP) in 2011. His specialist area of interest is in working with medically unexplained neurological symptoms such as psychogenic non-epileptic seizures.
You may also like