Dreams and Nightmares in Art Therapy: The Dream of the Jaguar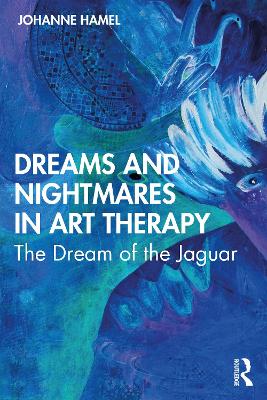 Also by Johanne Hamel
Dreams and Nightmares in Art Therapy draws on the author's extensive art psychotherapy practice and teaching to provide a wide range of creative writing and visual art methods for dreamwork.
Blending theories such as Gestalt therapy and Jungian psychology with clinical examples from Dr. Hamel's own clients, this unique book offers an array of art therapy and other creative dreamwork methods, covering a large variety of media such as mask making, clay, collage, sandtray and painting. The author also presents seven different types of nightmares and introduces a simple and efficient five-steps art therapy method for reducing their intensity and their frequency. The book concludes with a unique synthesis of 11 dreamwork methods to draw wisdom from dream journals accumulated over a long period of time.
This book is ideal for anyone interested in developing a personal or professional practice using dream art therapy. The methods presented here will captivate readers with their originality and provide inspiration for all kinds of psychological, artistic and spiritual development.
Reviews and Endorsements
"As we dive into the creative and artistic potential of dreams, we discover a deeper sense of identity. For people new to dreams or life-long dream journalists, this book teaches us how to explore their 'existential meaning' using art, storytelling, ceremony, and treasure boxes. With examples and illustrations, this book provides a rich source of inspiration and makes dream discovery a fun and playful endeavor." -Laurel Clark, DD, DM, past president of the International Association for the Study of Dreams, author of Intuitive Dreaming.

"Hamel's fascinating book demonstrates that the initiatory images and symbols provided by our dreams are essential to the psyche, as they support our passage from one life-stage to another. The author supplies concrete tools that will allow readers to progress autonomously into the future, with artistry, imagination and greater awareness." - Vera Heller, PhD, art therapy professor, Universite du Quebec en Abitibi-Temiscamingue (UQAT).

"If you only remember one dream you can start a fruitful conversation with Psyche. When you have lifelong Dream Journals as an available treasure chest available, you can foster a compassionate relationship with your inner self and inner artist. Dr. Hamel, a devoted dreamer and art therapist, shares how to tell the story of your dream life, offering a variety of creative and art-therapeutic methods that support a meaningful journey to your soul." - Mag. Johanna Vedral, psychologist, art therapist, and collage artist, author of Collage Dream Writing, teacher of creative writing.
About the Author(s)
Johanne Hamel, DPs, psychologist and art psychotherapist, specializes in dreamwork and in somatic art therapy. She has been teaching art therapy for 20 years at Universite du Quebec en Abitibi-Temiscamingue and is currently an international lecturer in Thailand, the USA and Europe.
You may also like