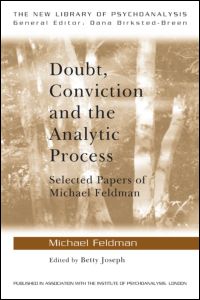 Book Details
Publisher : Routledge
Published : January 2009
Cover : Paperback
Pages : 288
Category :
Psychoanalysis
Catalogue No : 28488
ISBN 13 : 9780415479356
ISBN 10 : 0415479355
Also by Michael Feldman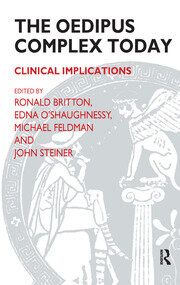 In this profound and subtle study, a practising psychoanalyst explores the dynamics of the interaction between the patient and the analyst. Michael Feldman draws the reader into experiencing how the clinical interaction unfolds within a session. In doing so, he develops some of the implications of the important pioneering work of such analysts as Klein, Rosenfeld and Joseph, showing in fine detail some of the ways in which the patient feels driven to communicate to the analyst, not only in order to be understood by him, but also in order to affect him. This collection of essays not only throws light on fascinating questions of technique, but also reflects on elements that are fundamental to psychoanalytic work. It is essential reading for practising psychoanalysts and those in training, as well as anyone with a general interest in the psychoanalytic relationship between the client and the therapist in the consulting room.
Reviews and Endorsements
The author's detailed descriptions of the clinical process allow the reader to follow the actual process that enables the patient to get into contact with thoughts and feelings of which he or she was previously unconscious or only vaguely aware.

Feldman makes the reader aware of the constant dynamic interaction between the patient and the analyst, each affecting the other. He shows how the analyst has to find a balance between doubt, uncertainty and confusion in himself and through this process may arrive at an understanding of what is happening, and by formulating this understanding the analyst can make a significant contribution to the process of psychic change.
About the Author(s)
Michael Feldman studied psychology and medicine, and worked for many years in the Psychotherapy Unit at the Maudsley in London. He is now a training analyst of the British Psychoanalytical Society and lectures and supervises clinical work in several centres in Europe and the USA. He has published numerous psychoanalytical papers, and has co-edited, with Elizabeth Spillius, Psychic Equilibrium and Psychic Change: Selected Papers of Betty Joseph
More titles by Michael Feldman
Betty Joseph was born in Birmingham in 1917. She came to London in 1950 to train at the British Institute of Psychoanalysis, subsequently going into full-time psychoanalytic work with both adult and child patients. She became a Training and Supervising analyst and Distinguished Fellow and was actively involved in the training activities of the Institute.
You may also like