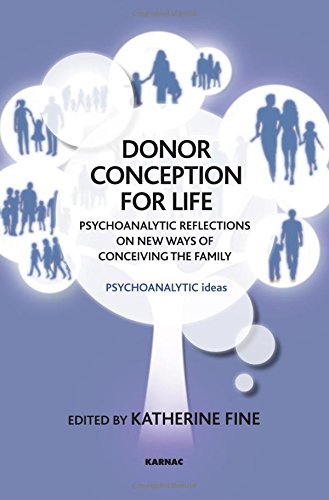 Book Details
Publisher : Routledge
Published : March 2015
Cover : Paperback
Pages : 256
Category :
Psychoanalysis
Catalogue No : 36044
ISBN 13 : 9781782202035
ISBN 10 : 178220203X
This book is about the psychological experiences of women and men who have used donor conception to create their families. The authors offer diverse accounts of their clinical, research, and personal experiences. They describe the challenge of powerful conscious and unconscious fantasies that can be aroused and how these may reawaken early anxieties and developmental struggles.
Whilst recipients of donated eggs or sperm may think they are simply acquiring a factor of reproduction, they are also receiving the genetic history of another family. The sensitive management of these relationships is considered in relation to establishing healthy and well-functioning families. The way these emotional challenges are negotiated is likely to be reflected in how parents talk with children about their donor origins.
Reviews and Endorsements
'Infertility strikes indiscriminately, severely undermining one's sense of continuity and "generative identity". Fundamental axioms are undermined by reproductive innovations, such as asexual fertilisation. A couple's trust in their own baby-making capacities is shattered when their exclusive intimacy is invaded by fertility experts' intrusive investigations and treatments. Further complex emotions arise if the womb must offer hospitality to a stranger's embryo or gametes – an act that will divert the family's genetic line forever. This book breaks the silence surrounding donor conception, revealing some of the unconscious desires, psychological strategies and dilemmas experienced by members of the "DC kinship triad" (donors/recipients/offspring) when reproductive technologies provide new hope, yet challenge our previously held cherished beliefs about family formation.'
— Professor Joan Raphael-Leff, UCL/Anna Freud Centre, London, and author of The Dark Side of the Womb
About the Editor(s)
Katherine Fine is a psychoanalytic psychotherapist with the British Psychotherapy Foundation, working in private practice in London. A member of the Donor Conception Network since its inception in 1993, she has facilitated both 'Preparation for (donor conception) Parenthood' and 'Talking and Telling' workshops. She is a visiting lecturer and supervisor at the Tavistock Centre in London and WPF Therapy (Westminster Pastoral Foundation) in London.
You may also like