Do Mothers Dream of Electric Babies?: The Importance of Emotional Bonds for Growing, Nurturing, and Educating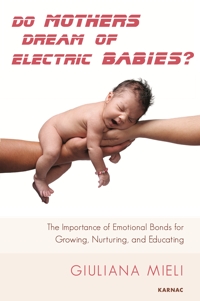 We live in a society that ignores and disregards attachment needs and feelings. Starting from this consideration, the author describes the stages of human emotional development in a lucid narrative which is both scientifically rigorous and grounded in clinical examples. Mieli critically investigates the origins of a specific weariness towards feelings which is reflected in the history of Western philosophy and science, resulting in a cultural disregard of emotional needs. The book powerfully suggests that if undeterred, this disregard may lead to severe consequences for the future of our society.
Research compellingly shows that responding to fundamental emotional needs is a psycho-biological requirement necessary for human wellbeing and survival itself. Mieli contends that its oversight has a counterpart in the dramatic rise of mental distress in contemporary society, as well as in the difficulties that are increasingly encountered around maternity, fertility, and parenting.
A psychological approach that is attentive to the emotional quality of the environment - both human and physical - in which a child is born and grows, may instead contribute to a new and positive way of supporting parents, teachers, and medical staff. This attentive approach facilitates an attitude not only aimed at "treating" or "curing", but above all at conveying an attuned sensitivity to human emotions and attachment needs, currently disregarded and depreciated in our technocratic culture, as a way of both integrating and transforming the world.
About the Author(s)
Giuliana Mieli is a Doctor in Theoretical Philosophy and Clinical Psychology. After working in the first mental health community services in the 1970s, she has been a consultant in the maternity wards of Saint Gerardo Hospital (Monza) and at Saint Giuseppe Hospital (Milan) in Italy. Aside from clinical practice, she has dedicated herself to the psycho-education of medical and paramedical staff in various Local Health Centres, and to training and supervising freshly graduated clinical psychologists and psychotherapists. She currently lives and works in Florence.
You may also like