Dignity Matters: Psychoanalytic and Psychosocial Perspectives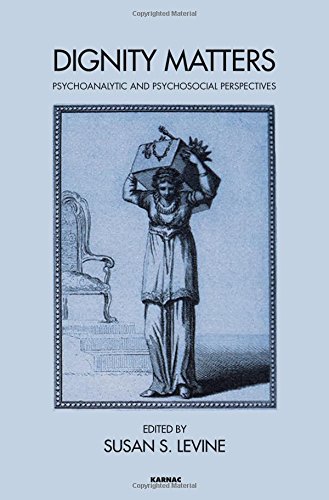 Book Details
Publisher : Routledge
Published : December 2015
Cover : Paperback
Pages : 230
Category :
Psychoanalysis
Catalogue No : 36215
ISBN 13 : 9781782202158
ISBN 10 : 1782202153
Also by Susan S. Levine
This book explores an ethical value central to all mental health professions. Although "dignity" appears near the beginning of many codes of ethics, it has been largely unexamined in the professional literature. Potter Stewart famously declared about pornography that we can't define it but we know it when we see it. Likewise with dignity. This book addresses that gap.
The book considers the role of dignity as an ethical dimension of practice: in individual psychotherapeutic and psychoanalytic work; in the therapeutic community; and in groups, organizations and nations. It outlines dignity in individual development and families, the role of dignity violations in the understanding and treatment of trauma, and how dignity and its violations can be a powerful force in conflict resolution. The book will also address dignity in relations to specific populations, with chapters on the African-American and the LGBT experiences. Listening, with the question of dignity in mind, offers a fresh non-pathologizing framework for the practitioner.
Dignity Matters: Psychoanalytic and Psychosocial Perspectives inaugurates a conversation about the fostering or preclusion of dignity in the resolution of conflicts – from the intrapsychic to the international. This book will have wide appeal for use in graduate curricula in the mental health fields.
With contributions by Salman Akhtar, Stanley Coen, M. Gerard Fromm, Donna Hicks, Dorothy Evans Holmes, Richard P. Kluft, Robert Kravis, Susan S. Levine, Eli Marcovitz, Kenneth A. Richman, and Susan C. Vaughan.
Reviews and Endorsements
'This eloquent collection offers a profound look at human dignity, which is so hard to define, so hard to achieve, and so necessary to us all. It is an urgent and timely volume.'
— Andrew Solomon, PhD, Professor of Clinical Psychology at Columbia University; author of Far From the Tree: Parents, Children, and the Search for Identity

'Dignity Matters is a stellar and timely collection of philosophical essays and erudite professional papers written by luminaries in psychoanalysis, philosophy, and other fields. Susan S. Levine and her contributors are to be heartily congratulated for bringing dignity to light as an ubiquitous human need, an essential component of the analytic attitude, and as an antidote for the many "isms" plaguing our modern society.'
— Carol Tosone, PhD, LCSW, editor-in-chief, Clinical Social Work Journal; Associate Professor and Director, DSW Program in Clinical Social Work, New York University Silver School of Social Work

'This volume offers readers a front-row seat where an interdisciplinary team of socially engaged scholars and practicing psychoanalysts explore the subject of dignity through both theoretical analysis and case studies. The book will deepen readers' understanding of the essence of dignity, its relevance to psychoanalytic practice, and the consequences of the subtle, systematic acts of violence that undermine individuals' sense of worth – the "violations of dignity" both in psychoanalytic practice and the social world. With brilliance, clarity and a rare honesty about psychoanalysts' blind spots with regards to homophobia, racial prejudice and other forms of "othering", the essays make a compelling argument for the development of an ethically-based psychoanalytic practice both inside and outside the consulting room. Dignity Matters is a work of path-breaking scholarship that provides inspiration and exciting direction for the study of the concept of dignity.'
— Pumla Gobodo-Madikizela, PhD, Senior Research Professor in Trauma, Memory and Forgiveness, University of the Free State, South Africa

'If we are to live effectively we must be able to feel personal dignity, yet psychoanalysis has done very little to contribute to our understanding of this crucial yet elusive experience. This volume begins a much-needed exploration of dignity, amply illustrating that the psychoanalytic method and clinical experience have much to offer. In addition to illuminating some of the complexities involved in the achievement and the collapse of personal dignity, the book is a model for dialogue about issues that engage the interest of scholars working in related but very different intellectual disciplines.'
—Jay Greenberg, PhD, editor, The Psychoanalytic Quarterly

'Every once in a while a creative author gives us the intellectual treat of a look at a brand new subject. Susan S. Levine, an innovative author who also has a firm grounding in our theories, has done just that with the subject of dignity. Dignity Matters has grown from an intriguing APsaA Panel Discussion into this volume. While the entire manuscript usefully informs us about the important place "dignity" holds in our work a number of contributions caught my attention in special ways. Akhtar, one of our special treasures as an author and speaker, delights us with philosophical insights expressed with his usual lucid and incisive beauty. Kravis offers a useful examination of the distinctions between dignity, narcissism, and self-esteem. Vaughan and Holmes bring this subject directly into our timely national conversation on issues related to the most important understandings of gender, sexuality and race relations. These are just a sampling, a few appetizers, that should stimulate one's appetite towards the full serving of this work. One comes away with a sense of the centrality of dignity as a motivating force and a reinforcement of the unique value of psychoanalysis in providing an understanding audience which accords dignity to all parts of one's mind, the darkest as well as the most luminescent.'
— Warren Procci, MD, Past President, American Psychoanalytic Association, Health Sciences Clinical Professor of Psychiatry, UCLA School of Medicine

'Susan S. Levine has assembled a masterful contribution of thought-provoking essays on dignity. Through the portals of psychoanalysis, religion, politics and philosophy, dignity is explored with a rich sweeping arc through world history and culture. Utilizing film, literature and clinical vignettes, this collection of essays is compelling, playful, and poignant. With astute attention to using the lens of applied psychoanalysis, the author offers a great contribution to both our theoretical understanding and the clinical applicability of this important subject.'
—Joan Wheelis, MD, Harvard Medical School

'At a time when American psychologists are struggling to acknowledge their participation in assaults on human dignity, this superb volume edited by Susan Levine explores the meanings and contours of that concept. Each author uses psychoanalytic theory to better understand how all of us are vulnerable to disregarding the fundamental worth of others. The reader is left with new ways of thinking about age-old moral questions.'
—Dennis Debiak, PsyD, President-Elect, Division of Psychoanalysis (39), APA Faculty and Founding Board Member, Institute for Relational Psychoanalysis of Philadelphia; Adjunct Associate Professor, Institute for Graduate Clinical Psychology, Widener University
About the Editor(s)
Susan S. Levine, LCSW, BCD, is in private practice in psychoanalysis, psychotherapy, and clinical supervision in Ardmore, Pennsylvania. She is also on the faculty of the Institute of the Psychoanalytic Center of Philadelphia. A former editorial associate and a current editorial reader at the International Journal of Psychoanalysis, she is on the Editorial Board of the Clinical Social Work Journal. She has published Useful Servants: Psychodynamic Approaches to Clinical Practice and Loving Psychoanalysis: Technique and Theory in the Therapeutic Relationship.
You may also like