Developing Mental Toughness in Young People: Approaches to Achievement, Well-being, Employability, and Positive Behaviour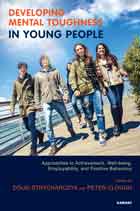 Book Details
Publisher : Routledge
Published : August 2014
Cover : Paperback
Pages : 304
Category :
Child and Adolescent Studies
Catalogue No : 33974
ISBN 13 : 9781782200055
ISBN 10 : 1782200053
The goal of this book is to describe the concept of 'Mental Toughness' in such a way that the reader understands the concept and understands how it relates to the development of young people of all ages, whether they are in education or engage in extra-curricular activity. Such understanding is particularly important in the context of change and the challenge of preparing to live and work in a fast moving and fast changing world.
One of the greatest challenges facing society today is that of developing young people who are the future generators of wealth so that they can play a full and productive part in the economic and social development of the world they inhabit and will inhabit. The need for this is particularly acute in the West where the old order is fast disappearing. The purpose of education and youth work is not only to ensure that young people are skilled and qualified. It must also prepare young people with the attributes and qualities that enable them to apply what they have learned in a challenging, changing and often stressful world. A number of initiatives have recently emerged which all have the same goal – to prepare young people for life in a world that demands resilience, confidence, tenacity and commitment in addition to vocational and academic skills. Possible the most important of these initiatives is Mental Toughness which, arguably, embraces most, if not all, of the other initiatives in producing the most comprehensive and enduring approach.
Reviews and Endorsements
'Developing Mental Toughness in Young People is a fantastic collection of work edited by Doug Strycharczyk and Peter Clough. The topic of mental toughness is examined in immense detail. The authors have espoused the benefits of the mental toughness questionnaire for young people to enable them to achieve success in personal and professional life. The four C's model of the mental toughness questionnaire MTQ48 – Control, Commitment, Challenge, and Confidence – provides a way of successfully managing the rapid pace of change in our world and increases feelings of self-efficacy and pride in what can be achieved using a performance measure. This is an ideal read particularly for school leaders, academic professionals, and, indeed, anyone who seeks to maximise their own potential and the potential of others. It encourages everyone to be "the best they can be" and embrace challenge, change, and opportunity. The struggle to work harder and smarter has not been addressed so profoundly anywhere else than within the pages of this superb book.'
— Diane Estelle Nugent, BEd, MEd, (PQH:NI), Past-President Ulster Teachers' Union, N. Ireland

'This book is an essential part of the curriculum for anyone concerned with the wellbeing and potential of young people. It is equally applicable in formal and informal education settings such as youth work and youth justice. At this time of high competition for resources, it is ever more important to be able to demonstrate impact and show that interventions are effective. Key to this is selecting the right intervention in the first place. In this regard, the authors set out a coherent argument for the fundamental importance of understanding the mindset of the young and where they are on the spectrum between mental toughness and mental sensitivity.'
— Dr Terry Ryall, former Chief Executive at vInspired, past Chief Executive at Girlguiding
About the Editor(s)
Doug Strycharczyk is recognised as a leading authority on the application of mental toughness into many different areas of society and the economy. He is the CEO for AQR international, an innovative test publisher whose focus is on improving performance, well-being and positive behaviours. He has a background in OD and People Development with global blue chip organisations, and together with Dr Peter Clough has been instrumental in taking the concept of mental toughness and its associated measure MTQ48 into the Education Sector in more than eighty countries. He holds a first class honours degree in Economics and is a Fellow of the Chartered Institute of Personnel Development and a member of the Institute for Leadership and Management. He has authored, with Peter Clough, Developing Mental Toughness (2012) and co-authored a chapter in Coaching in Education (Karnac 2011).
Dr Peter Clough is a Chartered Sport and Exercise psychologist and a Chartered Occupational psychologist. He is a senior lecturer at the University of Hull, and his main research interests are in performance in high pressure environments. He is also co-developer, with Keith Earle, of the mental toughness model and of the MTQ48 mental toughness questionnaire. His consultancy experience in the world of work embraces a wide variety of projects with major organisations in the UK and elsewhere, including the design and implementation of Assessment and Development Centres, Work Place Counselling, Employee and Culture Surveys, Leadership development, and Psychometric testing and training. In collaboration with AQR international, he supervises the ongoing development of the world's first integrated psychometric measure for Leadership Style and Behaviour. His first degree is in Psychology and his Masters degree (awarded by Sheffield University) is in Occupational Psychology. Peter earned his PhD at Aberdeen University.
You may also like