DBT Skills Manual for Adolescents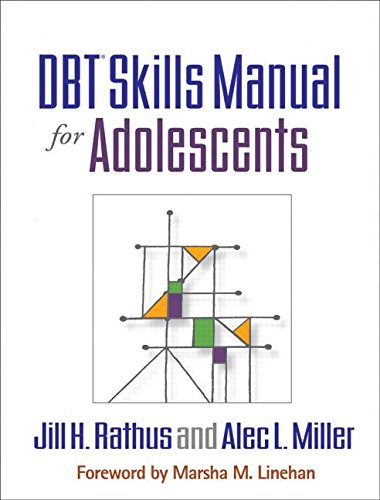 Also by Jill H. Rathus
From leading experts who have trained thousands of professionals in dialectical behavior therapy (DBT), this manual provides indispensable tools for treating adolescents with emotional or behavioral problems of any level of severity. Clinicians are guided step by step to teach teens and parents five sets of skills: Mindfulness, Distress Tolerance, Walking the Middle Path (a family-based module developed by the authors specifically for teens), Emotion Regulation, and Interpersonal Effectiveness. Designed for optimal clinical utility, the book features session outlines, teaching notes, discussion points, examples, homework assignments, and 85 reproducible handouts, in a large-size format for easy photocopying. Purchasers also get access to a Web page where they can download and print the reproducible materials.
About the Author(s)
Jill H. Rathus, PhD, is Co-Director of Cognitive Behavioral Associates in Great Neck, New York. She is Professor of Psychology at Long Island University-C.W. Post Campus (LIU Post) and Co-Director of the Family Violence Program at LIU Post. She has developed and conducted DBT programs for adolescents and adults and has published widely on DBT, adolescent suicide, couple therapy, intimate partner violence, personality disorders, assessment, and anxiety disorders. She serves as reviewer for several psychology journals, consults on treatment development, participates on National Institute of Mental Health grant review committees, and trains mental health professionals in DBT and cognitive-behavioral therapy.
Alec L. Miller, PsyD, is Professor of Clinical Psychiatry and Behavioral Sciences, Chief of Child and Adolescent Psychology, and Director of the Adolescent Depression and Suicide Program at Montefiore Medical Center of the Albert Einstein College of Medicine. He is also Co-Founder of Cognitive and Behavioral Consultants of Westchester and Manhattan. Dr. Miller has published widely on DBT, adolescent suicide, childhood maltreatment, and borderline personality disorder, and has trained thousands of mental health professionals in DBT.
You may also like