Crossing Borders - Integrating Differences: Psychoanalytic Psychotherapy in Transition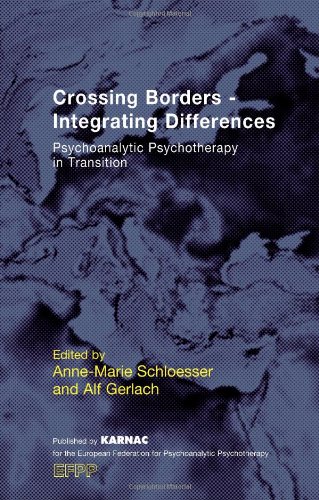 Book Details
Publisher : Routledge
Published : 2010
Cover : Paperback
Pages : 292
Category :
Individual Psychotherapy
Category 2 :
Psychoanalysis
Catalogue No : 28608
ISBN 13 : 9781855757837
ISBN 10 : 1855757834
Also by Anne-Marie Schloesser
Also by Alf Gerlach
This book will stimulate readers to cross borders: between theory and practice, between research and everyday therapy, between out-patient and in-patient psychotherapy, between the view of ones own, the known and the culturally foreign. Yet it is only with an awareness of these borders, an acknowledgement and respect of them, that it will be possible to proceed towards integrating differences, where this makes sense and appears necessary.
Reviews and Endorsements
'Crossing borders and integrating differences is an essentially psychoanalytic task like few others. This book allows the reader to take an adventurous trip at many levels, all true at the same time: from the migrants as people who were born elsewhere to the migrants understood as aspects of ourselves yet undiscovered and difficult to come in contact with. I strongly recommend this outstanding collection of articles to all therapists ready to migrate now and then towards new borders of psychoanalysis.'
- Roberto Basile, Analyst of the Italian Psychoanalytical Association and co-author of The Analytic Field: A Clinical Concept

Contributors:
Elitsur Bernstein, Christopher Bollas, Peter Bründl, Michael B. Buchholz, Georgia Chalkia, Bernard Golse, Stephan Hau, Grigoris Maniadakis, Luisa Perrone, Jan Philipp Reemtsma, Maurizio Russo, Hermann Staats, Martin Teising, Sieglinde Eva Toemmel, Irini Vlahaki

About the Editor(s)
Anne-Marie Schloesser is an academically qualified psychologist and a training and supervising psychoanalyst of the German Psychoanalytical Society (DPG) and the International Psychoanalytic Association. Her scientific publications include psychology in the medical field, supervision work in forensic psychiatry and on the Transitional Object.
More titles by Anne-Marie Schloesser
Alf Gerlach, MD, is an academically qualified sociologist who studied sociology and medicine at the Universities of Saarbruecken and Frankfurt am Main. He has worked at the Department for Psychotherapy and Psychosomatics in the University Hospital of Frankfurt, and is currently lecturer for psychoanalytic oriented psychotherapy in the program of the German-Chinese Academy for Psychotherapy. He is a member of the German Psychoanalytic Society and of the International Psychoanalytical Association and a training analyst at the Psychoanalytic Institutes in Mainz and Saarbruecken. He has also been chair of the German Society for Psychoanalysis, Psychotherapy, Psychosomatics and Depth Psychology (DGPT), and a member of the China Committee of the International Psychoanalytical Association.
You may also like