Craft and Spirit: A Guide to the Exploratory Psychotherapies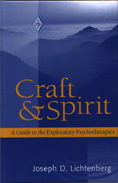 Book Details
Publisher : Analytic Press
Published : 2005
Cover : Hardback
Pages : 212
Category :
Individual Psychotherapy
Category 2 :
Psychoanalysis
Catalogue No : 22867
ISBN 13 : 9780881634334
ISBN 10 : 0881634336
Also by Joseph D. Lichtenberg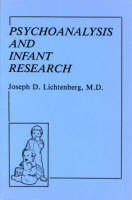 In this wonderfully illuminating sequel to A Spirit of Inquiry (Lichtenberg, Lachmann, and Fosshage, 2002), Joseph Lichtenberg writes of the craft of exploratory psychotherapy, by which he means the creative skill - even artistry - that mobilizes the spirit of inquiry in therapist and patient and sustains it over the course of psychotherapy. In Craft and Spirit: A Guide to the Exploratory Psychotherapies he expatiates on this craft as it pertains to patients of our time - patients who typically bring to therapy backgrounds of insecure attachment and serious concerns about safety and retraumatization.
In each of ten chapters, Lichtenberg formulates a different guideline for technique. These guidelines were initially set forth in The Clinical Exchange (Lichtenberg, Lachmann, and Fosshage, 1996); here they are keyed to the broad domain of exploratory psychotherapies and are accompanied by numerous clinical illustrations. Lichtenberg's guidelines for technique grow out of a uniquely contemporary, multidimensional sensibility. They are not technical rules and regulations but heuristic strategies for negotiating the dilemmas that inhere in therapy as a dyadic process in which therapists must sense themselves, and also be sensed by their patients, as fully and emotionally involved in the treatment. These guidelines seek to foster greater therapist involvement without compromising an openness to psychological exploration. They seek to sensitize therapists to the two interfacing tracks of communication that unfold in treatment: those of verbal exchange and of enactive messages. And they help guide therapist attention among inter-penetrating domains of therapeutic inquiry that comprise the patient's subjectivity, the therapist's subjectivity, and the inter-subjective realm that emerges from their collaborative experience.
Fusing the humanist tradition of therapeutic inquiry with knowledge gained from recent infancy and child research, Lichtenberg develops guidelines suitable to exploratory therapy with patients who communicate not only verbally but also through diverse affect states and altered cognitions. Consistently illuminating on the parallels and disjunctions between caregiver - child and therapist - patient relationships, Lichtenberg is clear about the adult-to-adult dimension of exploratory work in which "provision" is necessarily subordinate to "inquiry". And he is no less clear that his guidelines must be employed flexibly and creatively in the service of a shared spirit of inquiry. Craft and Spirit is aimed equally at prospective patients, therapists, and analysts, all of whom will be edified by this masterful demonstration of the ways in which a spirit of inquiry imbues the craft of psychotherapy, in Lichtenberg's words, "with its liveliness of sustained purpose".
About the Author(s)
Joseph D. Lichtenberg, M.D., is Editor-in-Chief of Psychoanalytic Inquiry, Director Emeritus of the Institute of Contemporary Psychotherapy and Psychoanalysis, past President of the International Council for Psychoanalytic Self Psychology, and member of the Program Committee of the American Psychoanalytic Association. He has authored and edited numerous books and articles, including Craft and Spirit: A Guide to the Exploratory Psychotherapies (Analytic Press, 2005) and Sensuality and Sexuality across the Divide of Shame (Analytic Press, 2007).
You may also like