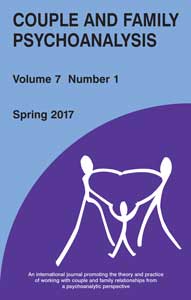 Also by Molly Ludlam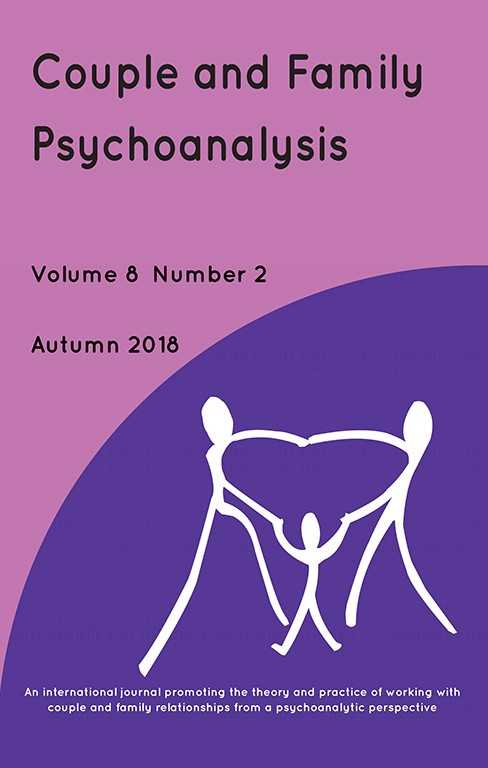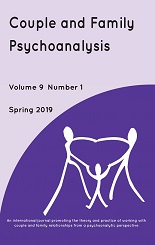 Couple and Family Psychoanalysis Journal is an international journal sponsored by The Tavistock Institute of Medical Psychology, and aims to promote the theory and practice of working with couple and family relationships from a psychoanalytic perspective. It seeks to provide a forum for disseminating current ideas and research and for developing clinical practice.
Editorial Molly Ludlum

Articles:
"How to Cure Family Disturbance": Enid Balint and the Creation of Couple Psychoanalysis. Twenty-first Enid Balint Memorial Lecture 2016 by Brett Kahr

Response to "How to Cure Family Disturbance": Lily Pincus, Martin Buber, and Projective Identificationby Viveka Nyberg

The Confinement of Compromise Formations: a Formable Aspect of Psychoanalytic Couple Therapy by Robert Waska

When the Couple is not Enough, or When the Couple is Too Much: Exploring the Meaning and Management of Open Relationships by Damian McCann

Echoes of the Serial Murder of the Psyche: A Psychoanalytic Approach to Serial Marriage by Hejan Epözdemir

Clinical Narrative and Discussion
Brief Intervention With a Chinese Couple by David E. Scharff

Brief Intervention With a Chinese Couple: Commentaryby Catriona Wrottesley

Reply to Catriona Wrottesley's Commentaryby David E. Scharff

Occasional Review

"Discussion: Mothers and fathers of invention: developing new family narratives" by Laura Kleinerman. Journal of Infant, Child, & Adolescent Psychotherapy, 6, 156–161, 2007
Reviewed by Polly Casey

Book Review

Dramatic Criticism

Arts Reviews
About the Editor(s)
Molly Ludlam is a psychoanalytic psychotherapist with couples, individuals, and parents in private practice and a Full Member of the British Society of Couple Psychotherapists and Counsellors, and Member of the International Council of Editors of Psychoanalytic Journals. She is author, editor and contributor to many books and journals.
You may also like