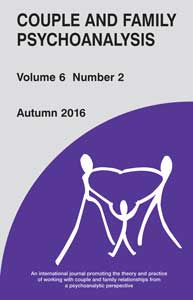 Also by Molly Ludlam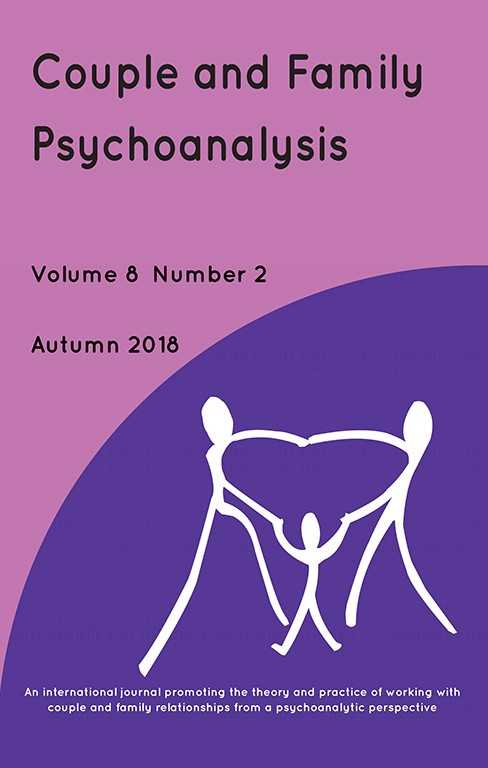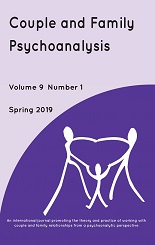 Couple and Family Psychoanalysis Journal is an international journal sponsored by The Tavistock Institute of Medical Psychology, and aims to promote the theory and practice of working with couple and family relationships from a psychoanalytic perspective. It seeks to provide a forum for disseminating current ideas and research and for developing clinical practice.
Editorial Molly Ludlum

Personal View
Renewal and Social Justice by Susanna Abse

Articles:
The Contribution of Enrique Pichon-Rivière: Comparisons with His European Contemporaries and with Modern Theory by David E. Scharff

Ways and Voices in the Psychoanalysis of Links According to Enrique Pichon-Rivière by Rosa Jaitin

The Links: What is Produced in the Space Between Others by Sonia Kleiman

Link and Transference Within Three Interfering Psychic Spaces by René Kaës

An Object Relations Approach to the Couple Relationship: Past, Present, and Future by Mary Morgan

Thinking in Terms of Links by Anna Maria Nicolò

Occasional Review
The Effectiveness of Psychodynamic Psychotherapies: An Update by Peter Fonagy by David Hewison

Book Reviews

Arts Reviews

Notes on Contributors

Forthcoming Events

Instructions to Contributors
About the Editor(s)
Molly Ludlam is a psychoanalytic psychotherapist with couples, individuals, and parents in private practice and a Full Member of the British Society of Couple Psychotherapists and Counsellors, and Member of the International Council of Editors of Psychoanalytic Journals. She is author, editor and contributor to many books and journals.
You may also like