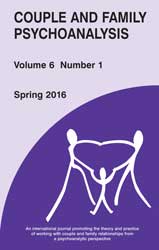 Also by Molly Ludlam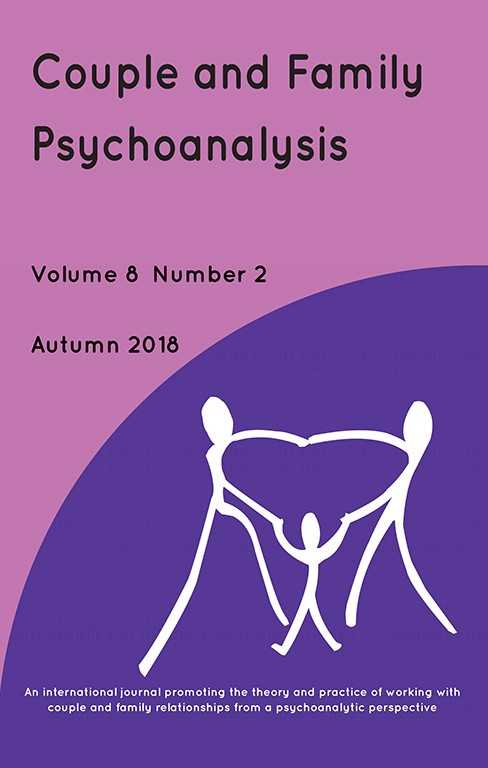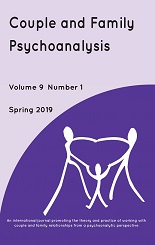 Couple and Family Psychoanalysis Journal is an international journal sponsored by The Tavistock Institute of Medical Psychology, and aims to promote the theory and practice of working with couple and family relationships from a psychoanalytic perspective. It seeks to provide a forum for disseminating current ideas and research and for developing clinical practice.
Editorial Molly Ludlum

Personal View
Doesn't He Speak in a Funny Language? by Gordon T. Harold

Articles:
Implications of the Intergenerational Linking Functions for the Parental Selfdyad in the Treatment of a Narcissistic Adolescent by Richard M. Zeitner

Navigating Ambivalent States of Bodymind: Working with Intergenerationally Transmitted Holocaust Trauma in Couple Therapy by Julia Meyerowitz-Katz

What Does Ending Mean in Couple Psychotherapy? by Mary Morgan

Enactments at the Edge: Transformational Moments in Psychoanalytically Influenced Couple Therapy by Ken Israelstam

Supportive Psychoanalytic Couple Psychotherapy by Ziva Levite, Idit Honigman, Hana Cohen, Liora Rehes and Gidi Shavit

Meeting the Author
An Interview with Joy Schaverien by Catriona Wrottesley

Book Reviews

Arts Reviews

Reports

Notes on Contributors

Abstracts from Other Journals

Forthcoming Events

Instructions to Contributors
About the Editor(s)
Molly Ludlam is a psychoanalytic psychotherapist with couples, individuals, and parents in private practice and a Full Member of the British Society of Couple Psychotherapists and Counsellors, and Member of the International Council of Editors of Psychoanalytic Journals. She is author, editor and contributor to many books and journals.
You may also like