Also by Molly Ludlam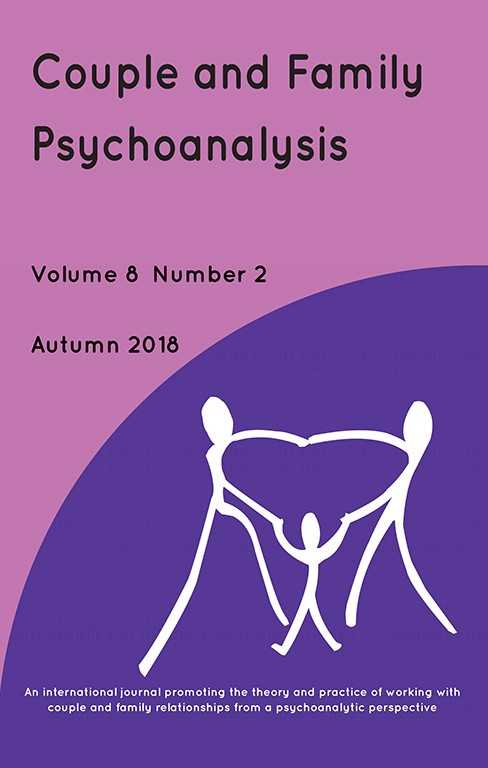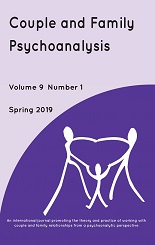 Couple and Family Psychoanalysis Journal is an international journal sponsored by The Tavistock Institute of Medical Psychology, and aims to promote the theory and practice of working with couple and family relationships from a psychoanalytic perspective. It seeks to provide a forum for disseminating current ideas and research and for developing clinical practice.
Issue Contents:

Editorial

Articles:
A Couple Therapist Looks at the Wolf-Man - by Robert Morley with a Foreword by Elspeth Morley

Reviewing the Case History of 'The Young Homosexual Woman: Two Different Settings - Two Case Histories? - Rodolfo Moguillansky and Mónica Vorchheimer

'A Bad Moment with the Light'. No-Sex Couples: The Role of Autistic-Contiguous Anxieties - Jenny Berg

Denial, Dissociation, and Emotional Memories in Couples Treatment - Judith P. Siegel

Working With Couples Between Past and Present: Some Clinical Implications - Flora Gigli, Patrizia Velotti and Giulio Cesare Zavattini

Beyond Conception: Recovering the Creative Couple after Infertility - Adam Kremen

Practitioners' Corner:
Behind Closed Doors: Reports of Physical Abuse and How to Handle Them - A Dilemma introduced by Marilyn Meyers

Meeting the Author:
An Interview with Prophecy Coles by Catriona Wrottesley

Report:
Reminiscences of a Learning Experience: A Partnership Between TCCR and IPI by Caroline Sehon

Obituary:
Dr Robert Morley (1926-2011)
About the Editor(s)
Molly Ludlam is a psychoanalytic psychotherapist with couples, individuals, and parents in private practice and a Full Member of the British Society of Couple Psychotherapists and Counsellors, and Member of the International Council of Editors of Psychoanalytic Journals. She is author, editor and contributor to many books and journals.
You may also like