Couple and Family Psychoanalysis: Volume 12 Number 1 – Special Issue: Therapy in the time of Covid-19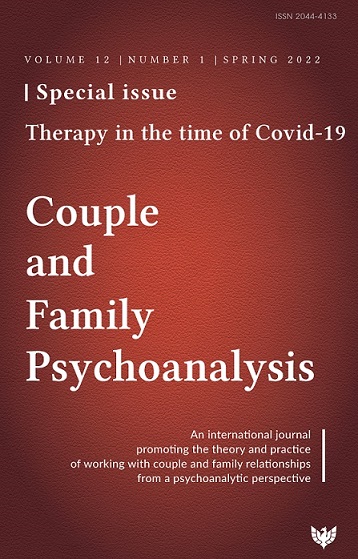 Also by Christopher Clulow

Couple and Family Psychoanalysis is an international journal sponsored by The Tavistock Institute of Medical Psychology, which aims to promote the theory and practice of working with couple and family relationships from a psychoanalytic perspective.
CONTENTS
EDITORIAL by Jill Savege Scharff
ARTICLES
– Community Response to the Impact of COVID: Psychoanalytic crisis intervention with a couple by Elizabeth Palacios
– Commentaries on Palacios's paper by Graciela Abelin-Sas Rose and Leora Benioff
– COVID-19, Catastrophic Lockdown, and a Couple Retreat by Joanne Brown
– To Gaze beyond the Screen: Appreciating the communicative function of mise en scène in online psychotherapy by Pierre Cachia
– How Close is Too Close? Some thoughts on couple psychotherapy in a time of constricted living imposed by Covid by Kate Thompson
– Inside Out and Outside In: Exploring the interplay between social and psychic structures in the pandemic era by Andi Pilecki Eliza-Christie
BOOK REVIEWS
– Psychoanalysis and Covidian Life: Common Distress, Individual Experience edited by Howard B. Levine and Ana de Staal – reviewed by Caroline Sehon
– Freud's Pandemics. Surviving Global War, the Spanish Flu, and the Nazis by Brett Kahr – reviewed by Christopher Clulow
– Psychoanalytic Work with Families and Couples: Clinical Perspectives on Suffering by Susana Kuras Mauer, Sara Moscona and Silvia Resnizky – reviewed by James Poulton
– The Curiosity Drive: Our Need for Inquisitive Thinking by Philip Stokoe – reviewed by Robert Monzo
ARTS REVIEWS
– Good Grief, by Lorien Haynes, directed by Natalie Abrahami, streamed at Original Theatre Online – reviewed by Elle Sidel
– Singer Rita Antonopoulou and guitarist Manolis Androulidakis, outdoor concert at the Pedion Areos Park, Athens, June 2021: A personal experience – reviewed by Nora Tsatsas
CONFERENCE REPORTS
– 9th International Congress of the International Association of Couple and Family Psychoanalysis (IACFP): "Advances in couple and family psychoanalysis in the contemporary world." by Anne Anttonen
– 9th International Congress of the International Association of Couple and Family Psychoanalysis, and first International E-Congress: "The Irrepresentable." by Rosa Jaitin
THE 2021 SIGOURNEY AWARD
David Scharff and Jill Savege Scharff
About the Editor(s)
Christopher Clulow, PhD, is a Senior Fellow of the Tavistock Centre for Couple Relationships, London, where he works as a visiting lecturer and researcher. He has published extensively on marriage, partnerships, parenthood and couple psychotherapy, most recently from an attachment perspective. He has a long history of contributing to thinking about the processes involved in ending relationships, and his most recent work has involved heading up a project identifying competences for treating depression through couple therapy under the Department of Health's Improving Access to Psychological Therapies initiative. He has also recently consulted to and evaluated interventions provided by a mental health agency to reduce depression in parents of young children. He is a founding member and past Deputy Chair of the British Society of Couple Psychotherapists and Counsellors and a member of the editorial board for the journal Couple and Family Psychoanalysis.
You may also like