Couple and Family Psychoanalysis: Volume 9 Number 1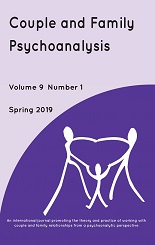 Also by Molly Ludlam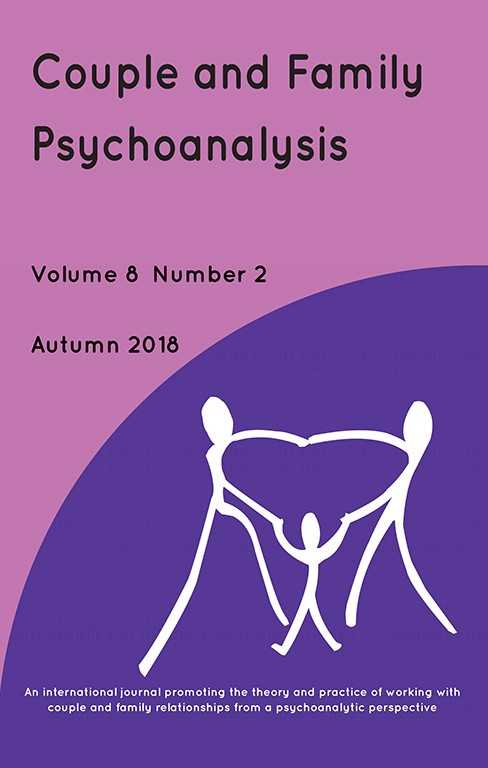 Couple and Family Psychoanalysis Journal is an international journal sponsored by The Tavistock Institute of Medical Psychology, and aims to promote the theory and practice of working with couple and family relationships from a psychoanalytic perspective. It seeks to provide a forum for disseminating current ideas and research and for developing clinical practice.
ARTICLES
– Sexual fantasy, unconscious phantasy, and the dynamics of attachment by Christopher Clulow
– Love, hate, and otherness in intimate relating by Mary Morgan
– Response to "Love, hate, and otherness in intimate relating" by Ondina Greco
– Contemporary approaches to the encapsulation and dispersion of trauma: Holocaust trauma as a barrier to couple intimacy by Hanni Mann-Shalvi, Caroline Sehon, and Timothy Keogh
– Developing Restorative Relationship Therapy: towards working safely with couples where there is abuse by Bob Goupillot and Tim McConville
CLINICAL NARRATIVE AND DISCUSSION
– Brief intervention with a Chinese family of a school-refusing fourteen-year-old girl by David E. Scharff and Janine Wanlass
OCCASIONAL REVIEW
BOOK REVIEWS
ARTS REVIEWS
REPORT
About the Editor(s)
Molly Ludlam is a psychoanalytic psychotherapist with couples, individuals, and parents in private practice and a Full Member of the British Society of Couple Psychotherapists and Counsellors, and Member of the International Council of Editors of Psychoanalytic Journals. She is author, editor and contributor to many books and journals.
You may also like