Conversations on Love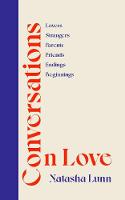 After years of feeling that love was always out of reach, journalist Natasha Lunn set out to understand how relationships work and evolve over a lifetime. She turned to authors and experts to learn about their experiences, as well as drawing on her own, asking: How do we find love? How do we sustain it? And how do we survive when we lose it?
In Conversations on Love she began to find the answers:
Philippa Perry on falling in love slowly
Dolly Alderton on vulnerability
Stephen Grosz on accepting change
Candice Carty-Williams on friendship
Lisa Taddeo on the loneliness of loss
Diana Evans on parenthood
Emily Nagoski on the science of sex
Alain de Botton on the psychology of being alone
Esther Perel on unrealistic expectations
Roxane Gay on redefining romance
and many more…
Reviews and Endorsements
Conversations on Love shows that love comes in myriad forms and that like our hearts and minds, it can be explored infinitely - Pandora Sykes, Sunday Times bestselling author of How Do We Know We're Doing It Right?.

Conversations on Love is a glorious celebration of human vulnerability and connection. It has made me laugh, shed tears, think deeply. I want every person I love to read this book - Dr Kathryn Mannix, Sunday Times bestselling author of With The End in Mind.

Enthralling, profound... The power of this book lies in its willingness to engage with love in the broadest sense: not merely the romantic kind, to which so many other books on relationships confine themselves. I can't imagine anyone who wouldn't benefit from reading this transformative book - The Bookseller.

Sometimes you read a book that just makes you want to take the author's hands, look them in the eye and say thank you. This is that book. I needed to read it, you need to read it, everyone needs to read it - Stacey Halls, bestselling author of The Familiars.

One reading of this book is not enough. Conversations on Love is inspiring, insightful, comforting and hopeful in equal measure. Every page makes you think about why we feel the way we do and gently nudges you towards self compassion. - Rosie Green, author of How to Heal a Broken Heart.


Natasha Lunn is the most thoughtful interviewer I have ever encountered, with a heart as big as her brain, and these conversations are endlessly inspiring, restorative, surprising and delicious. Love is too often taken for granted: here it shines under rigorous analysis to create a manifesto of how and why we feel, and a must-read for anyone who has a heart! - Emma Jane Unsworth, author of Animals


This book is moving and lyrical, but more than anything it captures how love colours and transforms loss, and makes the reader feel that the memory of love is sustains in itself - Baroness Julia Neuberger.

One of this summer's most buzzed about books (and one that might just change your life). Lunn is a diligent, purposeful guide to this most ineffable of subjects... these testimonies become a call to connect more imaginatively, expansively and courageously - Sunday Times.


About the Author(s)
Natasha Lunn is the features director at RED magazine and the creator of a popular and acclaimed email newsletter, Conversations on Love. She completed a course on psychodynamic couples therapy at the Tavistock Centre. She lives in London.


You may also like