Complicated Grief: Scientific Foundations for Health Care Professionals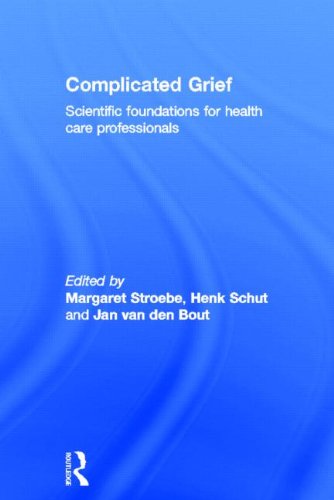 Book Details
Publisher : Routledge
Published : January 2012
Cover : Hardback
Pages : 344
Category :
Grief and Bereavement
Catalogue No : 33364
ISBN 13 : 9780415603935
ISBN 10 : 0415603935
Also by Margaret S. Stroebe
How can complicated grief be defined? How does it differ from normal patterns of grief and grieving? Who among the bereaved is particularly at risk? Can clinical intervention reduce complications? Complicated Grief provides a balanced, up-to-date, state-of-the-art account of the scientific foundations surrounding the topic of complicated grief. In this book, Margaret Stroebe,Henk Schut and Jan van den Bout address the basic questions about the concept, manifestations and phenomena associated with complicated grief. They bring together researchers from different disciplines, providing a broad range of cultural and societal perspectives, to enable the reader to access the scientific knowledge base regarding complicated grief, on both theoretical and empirical levels.
The book is divided into four main sections:
An exploration of the nature of complicated grief
Diagnostic categorizations
Contemporary research on complicated grief
Treament of complicated grief
Illuminating the foundations and new innovations in research, Complicated Grief will be essential reading for professionals working with bereavement such as clinical psychologists, health psychologists and psychiatrists, researchers, as well as graduate students of psychology and psychiatry.
Reviews and Endorsements
Contributors:
Paul Boelen, Kathrin Boerner, George Bonanno, Laurie Burke, Rachel Cooper, Atle Dyregrov, Kari Dyregrov, Francesca Del Gaudio, Ann-Marie Golden, Jennifer Jacobs, David Kissane, Rolf Kleber, Yeulin Li, Jeffrey Looi, Anthony Mancini, Mario Mikulincer, Michelle Moulds, Robert Neimeyer, Mary-Frances O'Connor, John Ogrodniczuk, William Piper, Holly G. Prigerson, Therese Rando, Beverley Raphael, Paul C. Rosenblatt, Edward Rynearson, Henk A.W. Schut, Phillip Shaver, Margaret S. Stroebe, Jan van den Bout, Marcel van den Hout, Birgit Wagner, Jerome C. Wakefield, Edward Watkins, Talia I. Zaider.

'Stroebe, Schut and van den Bout have succeeded in drawing together leading researchers, clinicians and academics who, between them, provide a comprehensive view of a complex and contentious area of discourse that has important implications for us all.'
- Colin Murray Parkes, author of Bereavement: Studies of Grief in Adult Life and Love and Loss.
You may also like