Collaborative Qualitative Research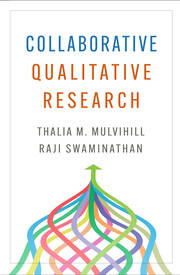 Book Details
Publisher : Guilford Press
Published : November 2022
Cover : Paperback
Pages : 274
Category :
Research
Catalogue No : 96902
ISBN 13 : 9781462550265
ISBN 10 : 1462550266
Meeting a key need for qualitative researchers, this practical book presents tools for creating productive partnerships and managing each phase of a collaborative project. The authors provide guidelines for working across disciplines, status differentials (such as professor and student), and geographical locations.
Collaboration within particular qualitative traditions--cross-cultural research, duoethnography, participatory action research, arts-based collaborations, and others--is described and illustrated with exemplars of published studies. Readers learn how to build research teams, formulate research questions, gather and analyze data, and assess how collaborations are working.
Ethical questions are highlighted throughout: Who owns collaborative research? Who decides what aspects of the findings should be disseminated? How can inequitable power relations be redressed? Within-chapter Pedagogical Pathways sections provide practice exercises and opportunities for reflection.
About the Author(s)
Thalia M. Mulvihill, PhD, is Professor of Higher Education and Social Foundations and Provost Faculty Fellow at Ball State University. She has served as Director of two doctoral programs, as well as Director of the Certificate Program in Qualitative Research and Education and the Certificate Program in College and University Teaching. Dr. Mulvihill is coeditor of The Teacher Educator journal and has published over 85 peer-reviewed articles and book chapters related to qualitative research and innovative pedagogies, as well as eight books. The recipient of numerous teaching, research, and mentoring awards, she is engaged in the study of history and sociology of higher education, qualitative inquiry, innovative pedagogies, and educational leadership.
Raji Swaminathan, PhD, is Professor in the Department of Educational Policy and Community Studies in the School of Education at the University of Wisconsin–Milwaukee. She has served as Director of Doctoral Studies and Chair of the Department and is a recipient of the university's Faculty Teaching and Faculty Research Awards. Dr. Swaminathan has published over 40 peer-reviewed articles and book chapters and seven books, six on qualitative research methods and one on the narratives of immigrant women. She is interested in and works in the areas of qualitative research, youth resilience, urban and alternative schools, creative pedagogies, and school leadership.
You may also like