Collaborative-Dialogic Practice: Relationships and Conversations that Make a Difference Across Contexts and Cultures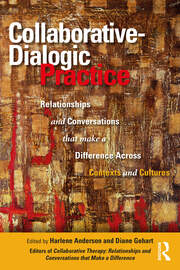 Book Details
Publisher : Routledge
Published : September 2022
Cover : Paperback
Pages : 232
Category :
Individual Psychotherapy
Category 2 :
Counselling
Catalogue No : 96272
ISBN 13 : 9780367741471
ISBN 10 : 0367741474
Also by Harlene Anderson

Collaborative-Dialogic Practice provides counselors, psychotherapists, and other mental health professionals a humanizing approach in facilitating transformative dialogues with their clients, making a difference in our fast-changing, diverse, and ever-shrinking world.
Written alongside a collection of international experts, Harlene Anderson and Diane Gehart introduce collaborative-dialogic practice as a method of encouraging relationships and conversations that create generative space and promote meaningful changes in clients, even in the most difficult situations. Promoting an epistemological and mindset shift, the main feature of the practice, the philosophical stance, guides the professional in particular ways of being, talking, thinking, and acting with others, informing future possibilities that were previously unimagined. Split into theory and practice, Part 1 introduces collaborative-dialogue and locates it within traditional and contemporary challenges and practices, providing an overview of its conceptual framework. Chapters in Part 2 then detail the practice in a variety of contexts, cultures, and diverse populations, such as educational settings, communities, businesses, organizations, research and psychotherapy, illustrating how readers can translate the concepts to their distinctive practice settings, their unique styles, and their clients' unique situations.
Accessible and applicable, this book will be an essential resource and guide for professionals in diverse contexts, cultures, and disciplines, including counselors, psychotherapists, consultants, leaders, mentors, educators, and trainers. Written for those new and familiar to the ideas, it will open doors for professionals to expand their competence and to take time to pause, step-back and reflect on their practice.
Reviews and Endorsements
"In this time of social division and injustice, it can be hard to envision a way forward. This collection inspires hope that change and equity are possible. From healthcare and school systems to business and climate activism, each chapter illustrates the transformative potential of dialogue. Readers are invited to use tensions and differences as a resource, to "walk with" into uncertainty through a process in which all voices are heard and something new can emerge." - Carmen Knudson-Martin, PhD, LMFT; Co-author Socioculturally Attuned Family Therapy: Guidelines for Equitable Theory and Practice

The present work is both a precious and inspiring resource. The world's future will depend on our capacities for dialogue across divides in belief, values, and ways of life. Challenged by increasing social fragmentation and polarization, we also confront our impoverished abilities. The present work points the way forward. It not only demonstrates the potentials for actively creating forms of dialogue, but offers an innovative orientation of broad and significant application. As the contributors to this work richly demonstrate, a collaborative-dialogic orientation bears fruit across multiple contexts - therapy, education, community building, business management, and more.  Fascinating as well, such practices prove fertile across multiple cultural settings. This is a truly salutary work. - Kenneth J. Gergen; Author of Relational Being: Beyond Self and Community

"This is a key text for those using relational approaches to psychotherapy, counseling, social work, health services, management, organization, law and politics. Collaborative-Dialogic Practice (CDP) is gaining traction as professionals realize the limitations of formulaic or method led ways of working with people, organizations and communities. Collaborative Dialogical Practice will be increasingly important in a world becoming less personal and more automated. In professional contexts, people tell us how they appreciate human connection guided by relational ethics and relational etiquette. This book covers all areas of relational practice addressing transcultural issues, power relations, and the philosophy of collaboration and dialogue. This edition contemporizes CDP by exploring how it can work across diverse communities and a range of professional contexts. It is an important, unique and practically useful text for new and experienced professionals by offering accessible essays which both explain and show what CDP looks like and how it can be used." - Dr Gail Simon, DProf, MA, BA Hons; CQSW, AFT & UKCP reg.;UKCGE Rec. Research Supervisor; Principal Lecturer in Systemic Practice and Programme Director.
About the Editor(s)
Harlene Anderson (USA) is a Founding Member of the Houston Galveston Institute and Assistant Professor of Psychology, Our Lady of the Lake University, Houston. She is internationally recognised as a leader in the field of family therapy and for her postmodern collaborative approach to therapy and education.
More titles by Harlene Anderson
Diane R. Gehart, PhD, professor, California State University, Northridge; Director, Institute for Therapy that Works, and co-editor of Collaborative Therapy: Relationships and Conversations that Make a Difference
You may also like