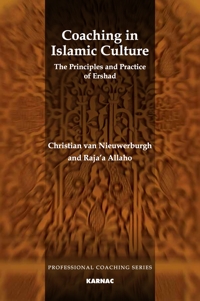 Book Details
Publisher : Routledge
Published : August 2017
Cover : Paperback
Pages : 184
Category :
Coaching
Category 2 :
Bargain and Discounted Titles
Catalogue No : 35966
ISBN 13 : 9781782201991
ISBN 10 : 1782201998
Also by Christian van Nieuwerburgh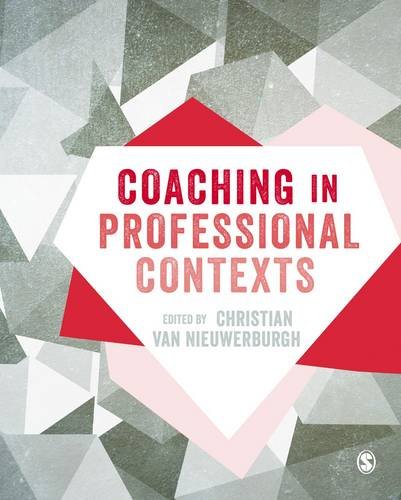 Our Customers Average Rating
Read all reviews (1)





This book is the result of a collaboration between two authors who share a passion and commitment for coaching. Its aim is to enthuse readers and provide guidance about the appropriate use of coaching within Islamic culture. The intention is to provide a culturally relevant coaching framework for use in Islamic context, which allows Muslims to develop in ways that are aligned with their faith and traditions.
The complete coaching framework presented here is called Ershad.
Reviews and Endorsements
'This groundbreaking new text provides theoretical insights and practical ideas about the use of coaching in Islamic culture. Not only does it seek the inclusion of values and principles in coaching conversations, these become the very basis of coaching practice. It is essential reading for anyone interested in using coaching in a way that aligns with Islamic ethics and tradition.'
- Professor Nora Ann Colton, Deputy Vice Chancellor, University of East London
About the Author(s)
Christian van Nieuwerburgh is a highly sought-after executive coach, researcher, educational consultant, and keynote speaker with significant leadership experience in the public sector. He currently divides his professional time between three engaging and rewarding roles. He is Programme Leader for the MSc in Coaching and Coaching Psychology at the University of East London, where he heads one of the world's leading university-based postgraduate programmes in coaching psychology; his particular area of expertise is in the impact of coaching within the education sector. He is also Chief Executive of the International Centre for Coaching in Education, through wh
More titles by Christian van Nieuwerburgh
Raja'a Yousif Allaho is an executive coach, speaker, trainer, and writer. She has over twenty years of experience in the provision of consultancy, training, and coaching, specialising in people development and performance. She is a proficient certified coach and trainer with extensive experience of providing coaching and training services for managers and executives. Combining international knowledge with local cultural context, she successfully supports executives to achieve their targets and aspirations. She works primarily in the oil, government, telecommunications, and banking sectors. Raja'a is the founder and leader of Mashar Coaching School, the first bilingual coaching school in the Middle East where she has trained, coached, and mentored more than 120 professional coaches. As a master trainer of personal development assessment tools and methodologies, Raja'a is certified by a number of international companies.
Customer Reviews
Our customers have given this title an average rating of 5 out of 5 from 1 review(s), add your own review for this title.
Ajaz Hussain on 23/06/2018 15:12:12





(5 out of 5)
This seminal book covers a community and people as diverse as as the interdisciplinary nature of the field of coaching itself. It is the first, that I am aware of, that starts with the context and culture of the target audience rather than imposing a Western individualistic epistemological perspective which has dominated coaching theory and practice literature.

The Ershad Coaching Framework give us a new, fresh perspective introducing the comprehensiveness of the Islamic and Arabic language and references that will be familiar and foundational to followers of, according to Pew Research (2017) 'the fastest-growing religious group in the world'.

For practitioners this book provides an insight into the the world of Muslims, their motivators, beliefs, values and interests although may be a little challenging to those of other faiths (or none) unfamiliar with the basic fundamentals of Islam. Perhaps, a companion guide to 'Understanding Islam' would help people to appreciate the contribution the authors have made to the field and practice, emerging in the Middle East at a rapid pace and with growing importance.

For academics and researchers, the 'Ershad Coaching Framework' will be of interest. Some questions that need to be reflected on, include:

* Can the Framework be implemented by Western practitioners in the Middle East, and if so what might be some of the challenges and areas of opportunity?
* Can this Framework be adapted for clients across the life-stage and life-span?
* What accompanying Islamic resources can support practitioners in implementing the Ershad Coaching Framework?
* How can we evaluate the Framework's impact and effectiveness?

For Islamic scholars, the 'Ershad Coaching Framework' will be of interest. Some questions that need to be reflected on, include:

* How do the Islamic references used fit with your scholarly understanding?
* In which country/ies do you see this Framework being successful, and why?
* Are there any Islamic seminal authors and papers missing that would have added to the quality of the Framework?

This book could become suggested reading for coaching and careers guidance and counseling practitioner training programs with many recent commentators suggesting the need for greater integration of cross- inter- multi-cultural models into professional practice.
You may also like