Clinical Seminars and Other Works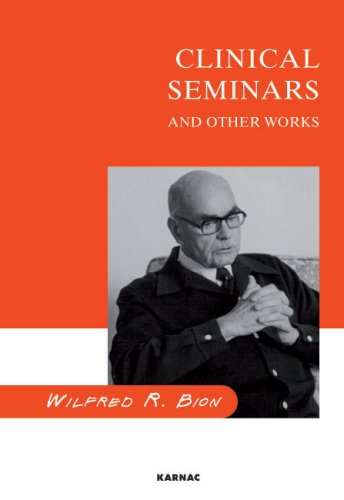 Book Details
Publisher : Routledge
Published : 1994
Cover : Paperback
Pages : 360
Category :
Psychoanalysis
Catalogue No : 2684
ISBN 13 : 9781855750616
ISBN 10 : 1855750619
Also by Wilfred R. Bion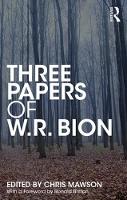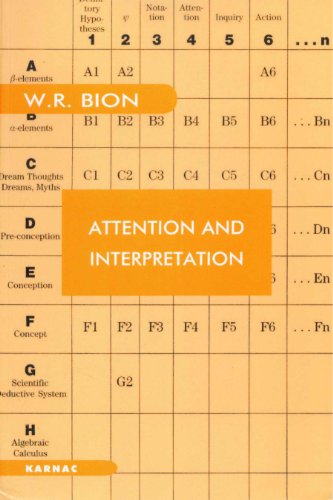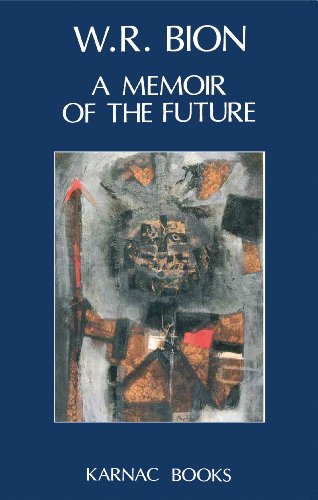 Our Customers Average Rating
Read all reviews (1)





This selection of clinical seminars held by Wilfred Bion in Brasilia (1975) and Sao Paulo (1978) is the nearest we shall ever get to experiencing his application of his theories and views to consulting-room practice. It is also likely to be the only printed record of this area of his work. As those who underwent analysis with Bion will testify, nothing can approach the experience of the thing itself, but, failing that, these seminars may help to fill the gap now that his voice can only be heard through his published writings and lectures. Other works included are 'Four Discussions' and 'Four Papers'.
The reader will find here no jargon, dogma or theoretical exposition; Bion knew that the enormous difficulties involved in communicating verbally this infinitely complex subject are only compounded by the use of what is often nothing more than "psychobabble". His intentional choice of simple language, accurately and consistently used, can come as a surprise; a presenting analyst says "Your suggestion of what to say to the patient seemed much simpler than what is usually said by the analyst."
He described analysis as a "tough job", "a dangerous occupation", and the analytic experience as "potentially nasty both for the analyst and the analysand ...like being at sea - it is as stormy for both people." To the question of whether it is the analyst's function to help the patient, he gives this illuminating reply: "...we are trying to say: 'I will help you to know yourself...I am trying to be a mirror to reflect back to you who you are, so that you can see in what I say to you an image of your self.'"
Throughout these seminars (and the following discussions and papers) runs the thread of Bion's penetrating insight, his recognition of truth, and his fascination with the human character. In observing the patient he believed that the analyst must combine the disciplined curiosity of the scientist, the warmth of the humanist, the wisdom of the philosopher, and the sensitivity of the artist. A tall order indeed, but one to which this remarkable man came very close to fulfilling.
About the Author(s)
Wilfred R. Bion (1897 -1979) was born in India and first came to England at the age of eight to receive his schooling. During the First World War he served in France as a tank commander and was awarded the DSO and the Legion of Honour. After reading history at Queen's College, Oxford, he studied medicine at University College London, before a growing interest in psychoanalysis led him to undergo training analysis with John Rickman and, later, Melanie Klein. During the 1940s his attention was directed to the study of group processes. Abandoning his work in this field in favor of psychoanalytic practice, he subsequently rose to the position of Director of the London Clinic of Psychoanalysis (1956-62) and President of the British Psychoanalytical Society (1962-65). From 1968 he worked in Los Angeles, returning to England two months before his death in 1979.

A pioneer in group dynamics, he was associated with the 'Tavistock group', the group of pioneering psychologists that founded the Tavistock Institute in 1946 on the basis of their shared wartime experiences. He later wrote the influential Experiences in Groups, an important guide for the group psychotherapy and encounter group movements beginning in the 1960s, and which quickly became a touchstone work for applications of group theory in a wide variety of fields. Bion's training included an analysis with Melanie Klein following World War II. He was a leading member in the Kleinian school while in London, but his theories, which were always based in the phenomena of the analytic encounter, eventually revealed radical departures from both Kleinian and Freudian theory. While Bion is most well known outside of the psychoanalytic community for his work on group dynamics, the psychoanalytic conversation that explores his work is concerned with his theory of thinking and his model of the development of a capacity for thought.
Customer Reviews
Our customers have given this title an average rating of 5 out of 5 from 1 review(s), add your own review for this title.
Joao Balroa on 29/03/2009





(5 out of 5)
Excellent clinical book. The penetrating clinical look of Bion to humans.
You may also like