Clinical Manual of Neuropsychiatry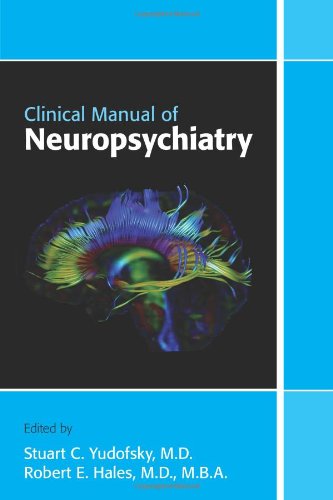 Book Details
Publisher : American Psychiatric Publishing
Published : 2011
Cover : Paperback
Pages : 400
Category :
Clinical Psychology
Category 2 :
Neuroscience
Catalogue No : 33187
ISBN 13 : 9781585624294
ISBN 10 : 1585624292
Also by Stuart C. Yudofsky
Clinical Manual of Neuropsychiatry focuses on the assessment, diagnosis, and treatment of the full spectrum of neuropsychiatric disorders, as well as those conditions that have significant neuropsychiatric components. With the help of this highly practical manual, clinicians are empowered to evaluate patients and treat the neuropsychiatric aspects of a host of disorders.
The manual:
- Sets forth a concise, step-by-step approach to assessing patients, by beginning with the indications for a neuropsychological evaluation, and progressing through the patient interview, physical examination, and measures that are useful diagnostic indicators, such as psychological testing and structural and functional neuroimaging.
- Offers complete physiological and epidemiological information about each condition, by providing much-needed context and helping the clinician to identify the focal neurological symptoms to look for, potential contributing factors, and the course a disease is likely to follow.
- Covers the general neuropsychiatric and neuropsychological considerations the clinician must take into account when attempting to understand the factors that influence presenting symptoms and behavioral changes. For example, intracranial pressure can be and elusive consequence of central nervous system (CNS) tumors and has been implicated in behavior changes such as apathy and depression.
- Aids the clinician in making a clinical diagnosis through the precise evaluation of a patient's neurological and psychiatric signs and symptoms, through taking a careful history, and through a directed physical examination the patient.
- Addresses the full range of available treatment options, including psychopharmacological, psychotherapeutic, and cognitive rehabilitation modalities.
- Presents an utterly up-to-date chapter on psychopharmacological treatment of patients with neuropsychiatric disorders, and includes an abundance of tables that compare indications, efficacy, and side effect profiles for the full range of drugs that are likely to be prescribed.
While acknowledging the ongoing dialogue on the nature of neuropsychiatry, Clinical Manual of Neuropsychiatry focuses on the paramount duty of the physician, whether psychiatrist or neurologist: to understand each patient's underlying disease and to ease the suffering it causes. This meticulously referenced, thoughtfully illustrated, and elegantly structured volume deserves a place in both the beginning and seasoned clinician's library.
You may also like