Climate Change: A Very Short Introduction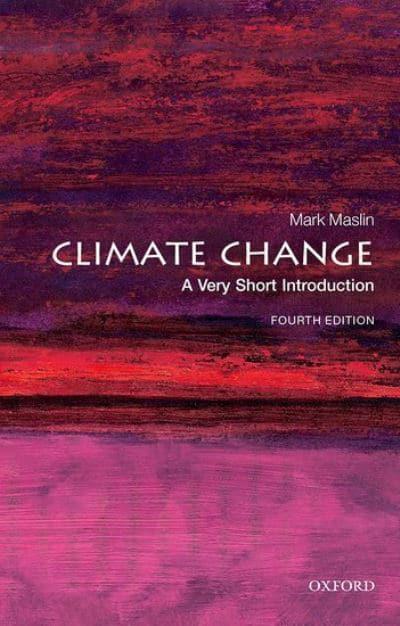 Book Details
Publisher : Oxford University Press
Published : August 2021
Cover : Paperback
Pages : 200
Category :
Climate Politics
Category 2 :
Environmental Studies
Catalogue No : 96351
ISBN 13 : 9780198867869
ISBN 10 : 0198867867
In the last few years global awareness of climate change has grown very rapidly - through the school strikes led by Greta Thunberg, groups like Extinction Rebellion, the IPCC's recent high impact reports, tv documentaries, and declarations from governments around the world that we are in a climate emergency.
This awareness is continuing to grow, as the science shows us that our planet and our species are facing a massive crisis, which we ourselves have caused. Climate change is one of the few scientific theories that make us examine the whole basis of modern society. It is a challenge that has politicians arguing, sets nations against each other, queries individual lifestyle choices, and ultimately asks questions about humanity's relationship with the rest of the planet.
This Very Short Introduction draws on the very latest science from the 2021 IPCC Report, examining the evidence that climate change is already happening, and discussing its potential catastrophic impacts in the future. Mark Maslin also explores the geopolitics of climate change and the win-win solutions we can employ to avoid the very worst effects of climate change. Throughout, he demonstrates how we must develop new modes of thinking for the 21st century at individual, corporate, and government levels to collectively tackle the challenge of climate change.
Reviews and Endorsements
"Teaching climate change ... means choosing the right book by the right person. Enter Mark Maslin, Professor of Earth System Science at University College London and the author of Climate Change: A Very Short Introduction, a slim volume with a big punch ... University instructors ... will appreciate this book for its ambitious sweep and its accessible writing" ― Donald Wright, Yale Climate Connections
About the Author(s)
Mark Maslin FRGS, FRSA is a Professor of Earth System Science at University College London. He is a leading scientist with expertise in past and future climate change. Maslin appears regularly on radio and television, and has written ten books, including The Cradle of Humanity (2017), The Human Planet (2018, co-authored with Simon Lewis), and How to Save Our Planet: The Facts (2021). He is a Royal Society Industrial Fellow, working with Rezatec Ltd, a geoanalytics company he co-founded, and a Royal Society Wolfson Research Merit Scholar.
You may also like