Choosing Effective Support for People on the Autism Spectrum: A Guide Based on Academic Perspectives and Lived Experience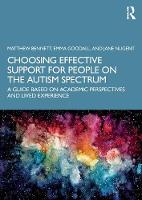 Book Details
Publisher : Routledge
Published : December 2020
Cover : Paperback
Pages : 242
Category :
Autism and Aspergers
Catalogue No : 95407
ISBN 13 : 9780367421274
ISBN 10 : 9780367421
Also by Emma Goodall
This book is essential for anyone interested in learning about the therapeutic potential of orthodox and state-of-the-art supports for autistics. Using research evidence, supports are rated using a Gold, Silver, Bronze, and Tin category system. 'Gold' is extremely promising and use with confidence, whereas 'Tin' is extremely unsafe and potentially life threatening. This book, however, is more complex than just presenting literature reviews about supports for autistics and then rating the efficacy of the support. In addition to this, the insights and experiences of autistics about the autism supports examined are presented. Such testimonials provide an insider perspective from those who ultimately stand to benefit or suffer after receiving a support - namely autistics themselves.
Reviews and Endorsements
Over the years, appropriate supports for autistic individuals have been vigorously debated. Now, within the pages of this long-awaited guide, individuals, caregivers and professionals have an excellent, trustworthy reference that helps to guide these decisions. Evidence based support and how to find what's right for an individual, has been a treasure marked X, but without the map! This book provides the map and is an essential aid to eliminating potential hurdles along the way. - Wenn B. Lawson, PhD.

As autism experts on many levels, Dr Goodall, Dr Nugent and Dr Bennett utilise their professional standing and knowledge with the "insider experience" in this long-awaited guide to navigating the minefield of purported autism supports. This book is sequential, logical and easily accessible for anyone who seeks to use current evidence and valuable autistic feedback as the basis for their decision making. In the style of the authors, I award this work a gold star! - MS Judy Brewer AO, former Chair Autism CRC and parent advocate.

This volume provides a truly comprehensive overview of the range of treatments for individuals with ASD. In doing so it covers both well -established evidence-based treatments, treatments with a small but emerging evidence base, and some treatments with little to no evidence base (past the level of case report/anecdote). The system of rating the evidence available in support of treatments is extremely helpful and can be used by parents, teachers, and others in making informed decisions about programs and treatments. It also includes a summary of medications sometimes used for the treatment of associated problems like anxiety, depression, irritability, and sleep as well as other treatment approaches for these conditions. An invaluable guide for students, parents, and teachers this volume provides an extremely helpful overview of the current state of knowledge in treatments for autism. - Fred Volkmar MD, Irving B. Harris Professor of Child Psychiatry, Pediatrics, and Psychology - Yale University School of Medicine and Dorothy Goodwin Family Professor of Special Education, Southern, Connecticut State University, New Haven, CT, USA.


About the Author(s)
Matthew Bennet is an Independent Researcher.
Emma Goodall is National Co-ordinator - Content & Resources at Positive Partnerships, and Consultant at Healthy Possibilities.
Jane Nugent was a qualified Medical Doctor and an experienced University Lecturer in Psychopharmacology, with diverse work experience in rural and remote health settings.
You may also like