Child Psychoanalytic Psychotherapy in Primary Schools: Tavistock Approaches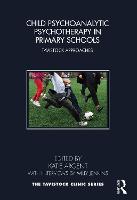 This book investigates the experiences of severely troubled children and their families, teachers, and child psychoanalytic psychotherapists working together in primary schools.
The book begins by looking at children's emotional life during the primary school years and what can disrupt ordinary, helpful social development and learning. It examines what child psychoanalytic psychotherapy is, how it works, and why it is offered in primary schools. The following chapters intersperse accounts of creative child psychoanalytic approaches with interviews with parents, carers, teachers, and clinicians. A section focusing on mainstream primary schools presents parent-child interventions for a nursery class; child group psychotherapy with children from traumatized families; and consultation to school staff, with personal accounts from parents, a kinship carer, a family support worker, a deputy head, and a child psychotherapist. Chapters then focus on alternative educational settings, featuring a school for children with severe physical and cognitive disabilities; a primary pupil referral unit; and a therapeutic school. These chapters show psychotherapy with a non-verbal boy with autism; therapy groups with children who have missed out on the building blocks of development alongside reflective groups for school staff; and child psychotherapy approaches at lunchtime and in breaks, with insights from a parent, a clinical lead nurse, a head teacher, and a child psychotherapist. Finally, there is an evaluation of evidence about the impact of child psychotherapy within primary schools.
Recognizing the increasing importance of attending to the emotional difficulties of children whose relationships and learning are in jeopardy, this book will be invaluable to all those working in primary schools, to commissioners of child mental health services, to parents and carers, and to experienced and training clinicians.
Reviews and Endorsements
"An excellent resource for professionals in education, social care and child mental health, and for parents who are unsure about their children receiving therapeutic help at school. The editor and contributors remain true to the tradition of psychoanalytic thinking about learning and teaching which has characterised the Tavistock Clinic's approach for more than ninety years. At the same time, the book is absolutely up-to-date with the current socio-political context in which therapeutic services are based in schools, ensuring greater equity of access and closer links between teachers, parents and clinicians. Chapters include interviews with parents and teachers and vivid observations from classrooms and therapy sessions, providing convincing accounts of the psychoanalytic perspective." - Biddy Youell, Consultant Child and Adolescent Psychotherapist.

"Anyone working in education or with children will benefit from this excellent book, with examples and insights from families and professionals. As a teacher, I was especially interested in how early childhood anxieties and experiences can impact on the way a child manages school - manifest in behaviour that's immediately noticeable even if the reasons for it are not, or in behaviour that's not initially concerning and "goes under the radar". The book made me consider the work schools and psychotherapists need to do to ensure that our different approaches complement each other in supporting the children and families we work so hard with." - Don McGibbon, Head Teacher, Fleet Primary School.

"This book provides detailed insight into children's emotional health and the social/emotional factors that influence their well-being and ability to cope with home and school life. It provides a real-life account of the challenges faced by teachers and other professionals working with children with emotional difficulties on a day to day basis. The need for specialist child psychotherapy is greater than ever. The case studies and interviews demonstrate how child psychoanalytic psychotherapists, families and schools working together can provide effective intervention and support, allowing children's emotional obstacles to be explored and overcome." - Karen Filiz, Acting Deputy Head, Early Years Foundation Stage and Inclusion Lead, Beckford Primary School.
About the Editor(s)
Katie Argent is Head of Child and Adolescent Psychotherapy at the Tavistock and Portman NHS Foundation Trust. She has a special interest in the usefulness of psychoanalytic thinking outside the clinic.
You may also like