Chaos and Control: A Psychoanalytic Perspective on Unfolding Creative Minds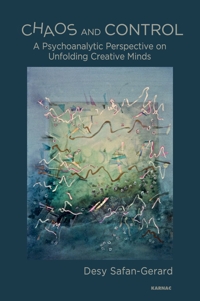 Book Details
Publisher : Routledge
Published : May 2018
Cover : Hardback
Pages : 288
Category :
Psychoanalysis
Catalogue No : 36959
ISBN 13 : 9781782202943
ISBN 10 : 1782202943
This book explores the role of chaos and control in the creative process as well as the difference between talent and creativity. Part One describes explores some of the common biases and pitfalls in the analysis and therapy of creative people, the role of the accidental in creative work, the nature of creative blocks, passion and its absence, as well as the problem of being able to exercise one's freedom. The author describes the special needs of creative patients, the common problems arising in therapy, its solutions, and, most importantly, the analyst's distinctive role when dealing with such patients. She also probes into the role of narcissism, neurosis, and psychosis on creative work.
Part Two reinforces the themes of the first part by describing the process and history of the author's own creative path. These are mostly autobiographical accounts of her overall emotional relationship to the arts, reinforcing the themes presented in Part One: the significance of visual artwork; the role of destructiveness; the importance of love and hate during creative work; the role of mistakes, and the special role of music in the author's later paintings based on Pierre Boulez's music.
About the Author(s)
Desy Safán-Gerard was born in Santiago, Chile, where she did her initial training in psychology. She studied musical composition with composers Leon Schidlowski and Gustavo Becerra and held a position as a therapist and researcher in the Faculty of Music of the University of Chile. She created and conducted an a capella choir that won her a scholarship for a four month residency in Israel. Back in Chile, she taught about groups in the Psychology Department of the Univeristy and psychology of art in the Art Department of the Catholic University. A Fulbright fellowship allowed her to pursue graduate studies at UC Berkeley where she obtained an MA in psychology. Her dissertation dealt with the psychological determinants of musical taste.

Some years later, she continued graduate work in the Department of Psychology at UCLA and obtained a PhD in clinical psychology in 1974. Because of her longstanding interest in psychoanalysis, she pursued psychoanalytic training at the PCC (Psychoanalytic Center of California) in Los Angeles where she is currently a Training and Supervising Analyst. Desy has led a threefold life in music, painting, and psychoanalysis since childhood. Her book is a compilation of papers presented in Los Angeles, CA and abroad on the issues confronting a person engaged in the creative process and on the unique needs of creative patients in treatment.
You may also like