Changing Minds in Therapy: Emotion, Attachment, Trauma, and Neurobiology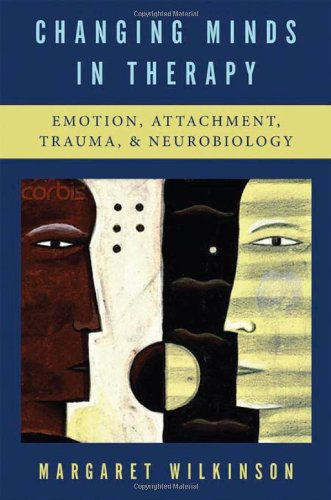 Also by Margaret Wilkinson
There is an increasing clinical focus on how recent advances in research on neuroscience, attachment and trauma can be applied to treating patients with a history of early neglect and relational trauma. Margaret Wilkinson draws on her extensive clinical expertise as a therapist to explain the role of the mind-brain relationship in therapeutic change. The book covers issues such as how the brain works to assist in therapeutic change, and how healing from early trauma is tied into, and influenced by, brain function. Cutting-edge research is here applied to the practical, clinical challenge of addressing and overcoming trauma.
Reviews and Endorsements
'Wilkinson provides us with a much needed and masterly synthesis of psychodynamic psychotherapy with the latest fi ndings from neuroscience, especially on affect, attachment, and trauma. Skillfully guiding the reader through complex, contemporary research, she applies the results with clear, vivid clinical examples demonstrating how to make the science come alive in treatment. Her expert integration of contemporary Jungian models of the human psyche makes this book a rare contribution to the broader field.'
- Joe Cambray, PhD, President-Elect, IAAP

'Changing Minds in Therapy is innovative and richly informative. Relating brain, mind and body, in an eminently, accessible account, Wilkinson brings complex theory to life. Thorough research evidence, combined with dramatic case histories, demonstrates how the impact of early trauma may be mediated through attachment and attunement in psychotherapy. This book offers an illuminating, engaging and ultimately, optimistic narrative. I highly recommend; it is an important contribution to the literature.'
- Professor Joy Schaverien, PhD, Jungian Psychoanalyst in private practice

'Destined to be one of those books that everyone cites! Wilkinson is among the very few writing in psychotherapy and psychoanalysis today who can do the science without losing the art. She assembles and organizes for us a feast of theoretical and clinical material, and adds more than a dash of her own remarkably creative thinking. She is steeped in the most complex ideas about brain, mind, body, and therapy, yet the book is companionable and clear, so that its wisdom is accessible to practitioners at all levels of experience who come from any of the manifold traditions of our field.'
- Andrew Samuels, PhD, Visiting Adjunct Clinical Professor of Psychoanlaysis, NYU
About the Author(s)
Margaret Wilkinson maintains a private practice in North Derbyshire, England. She is a professional member of the Society of Analytical Psychology, London, and a member of the editorial board of the Journal of Analytical Psychology.
You may also like