Case Formulation in Contemporary Psychotherapy: Decoding the Conscious and Preconscious Transactions between Therapist, Patient and Supervisor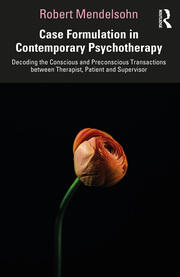 Book Details
Publisher : Routledge
Published : September 2023
Cover : Paperback
Pages : 208
Category :
Individual Psychotherapy
Catalogue No : 97292
ISBN 13 : 9781032452166
ISBN 10 : 1032452161
Also by Robert Mendelsohn
Case Formulation in Contemporary Psychotherapy presents a new approach to case conceptualization and case formulation, making meaning from each clinical case and using every piece of data available.
Robert Mendelsohn explains his core basic principles for case formulation, allowing the clinician to assess a case quickly and accurately. This book includes a discussion of the contributions of transference and countertransference, inducement and enactment, as well as the use of paradigmatic techniques, humor, and language. The processes presented, alongside vignettes illustrating their use, will allow clinicians to decode the meaning of all clinical interaction and to communicate that meaning in a helpful way to students and patients.
Providing a new way to access a full range of conscious and preconscious clinical information, Case Formulation in Contemporary Psychotherapy will be essential reading for mental health professionals including psychotherapists and psychodynamic and psychoanalytic clinicians in practice and in training. It will also be of great interest to students of psychotherapy and psychoanalysis.
Reviews and Endorsements
A professor's professor, Dr. Mendelsohn brings one of his legendary courses to the world outside of his beloved school. With this book, he extends Theodore Reik's legacy and provides a contemporary psychoanalytic guide to case formulation and treatment planning that is at once practical and magical.
J. Christopher Muran, Ph.D., Gordon F. Derner School of Psychology, Adelphi University; Mount Sinai Beth Israel Psychotherapy Research Program, Icahn School of Medicine at Mount Sinai; NYU Postdoctoral Program in Psychotherapy and Psychoanalysis, New York University

Robert Mendelsohn is a teacher and clinician par excellence, having taught clinical psychology at Adelphi University for five decades. Read this book and learn from a clinician who is a master at formulating the client's problems and showing us how to solve them!
Jacques Barber, Dean, Derner School of Psychology, Adelphi University, New York
Table of Contents

Foreword by Robert F. Bornstein
Preface
Acknowledgments
Introduction

Chapter 1
The History of Case Formulation and Treatment Planning; From Freud (1918) to W. Reich, (1946) From Reich to T. Reik, (1948, 1959) from Reik to Bion, (1962, 1976) and Winnicott, (1960, 1971) to Billow & Mendelsohn, (1990)

Chapter 2
The Fourteen Clinical Processes Involved in My Approach to Case Formulation including: Countertransference, Inducement, Enactment, Projective Identification, Gratuitous Remarks, The Clinical Use of Many Processes Including Paradigmatic Techniques (And 'My Technical Use of My 'Sense of Humor')

Chapter 3
Early Clinical Examples of My Knowing Without Consciously Knowing What I Unconsciously Knew

Chapter 4
What Is Parallel Process and How Does It Enrich Our Understanding of Psychodynamic Case Formulation and the Preconscious Transmission of Clinical Data?

Chapter 5
Magical Processes in Psychotherapy and The Magic of Dream Interpretation

Chapter 6
Magical Processes in Case Consultation, Case Formulation and Treatment Planning

Chapter 7
Conclusion: Creating A Space for Magic to Occur/Teaching the Magic to Others
About the Author(s)
Robert Mendelsohn (Ph.D., ABPP) is Professor of Psychology and former Dean at the Gordon F. Derner School of Psychology of Adelphi University, USA. He has been teaching psychodynamic psychotherapy to mental health professionals for almost 50 years.
You may also like