But at the Same Time and on Another Level: Volume 1: Psychoanalytic Theory and Technique in the Kleinian/Bionian Mode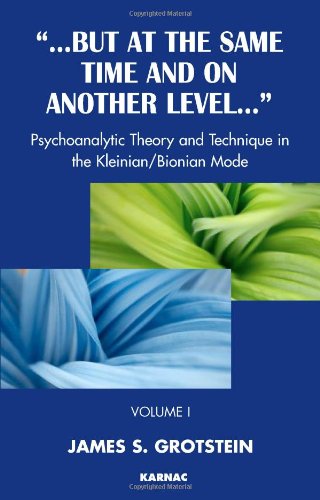 Book Details
Publisher : Routledge
Published : 2009
Cover : Paperback
Pages : 400
Category :
Psychoanalysis
Catalogue No : 28299
ISBN 13 : 9781855757868
ISBN 10 : 1855757869
Also by James S. Grotstein
Our Customers Average Rating
Read all reviews (1)





'This work is organized as a primer and handbook, a "beginning", to elucidate general principles on how the psychoanalyst or psychoanalytically informed psychotherapist may optimally provide and maintain the setting for the psychoanalysis, listen to and process the analysand's or patient's free associations, and ultimately intervene with interpretations - principally from the Kleinian/Bionian perspective, including the contemporary London post-Kleinians and today's Kleinians and Bionians elsewhere. This present work seeks to follow in that tradition in respecting the foundational work of Klein's original contributions and demonstrating how they naturally emerge into contemporary (post-)Kleinian and "Bionian" thinking.' - From the Introduction
Reviews and Endorsements
'James Grotstein, one of the most innovative theoreticians in contemporary psychoanalysis, offers to every analyst his clinical experience. The reading of this book will determine a catastrophic but enriching change in the way of operating of all analysts. In terms of psychoanalytic technique there will be a before and after this book.'
- Antonino Ferro, author of Seeds of Illness, Seeds of Recovery, and In the Analyst's Consulting Room

'This is a landmark book in the development of analytic thinking on technique and the ideas upon which technique is based. It is filled with the clinical wisdom and theoretical sophistication gleaned from Grotstein's lifetime of experience as an analyst and analytic thinker. The depth, lucidity and detail of the presentation of clinical work are rare in the analytic literature. Grotstein faithfully presents how Kleinian, post-Kleinian, and Bion-informed analysts work and masterfully details the theories that inform them, and then goes on to transform them into his own unique synthesis. That final transformation is of critical importance to this book, not because Grotstein hopes that the reader will learn to practice analysis in the way he does. Quite the opposite, the book is a generous invitation to the reader to reflect upon and further develop his or her own analytic style in a way that includes a familiarity with the contributions of Klein and Bion. Analysts are never alone with their patients in the consulting room - in addition, there are always one's analyst and teachers upon whom one has relied in the course of becoming oneself as a psychotherapist or analyst. The reader will find Grotstein a welcome and invaluable addition to those already present in his or her consulting room.'
- Thomas H. Ogden, author of Reverie and Interpretation and The Primitive Edge of Experience

'In these two volumes James Grotstein provides a historical account of analytic thinking from Freud, through Klein to Bion and beyond. He also gives us a survey of the Klein/Bion diaspora that currently exists and the various approaches to analytic practice to be found in it. In addition it is a personal primer on psychoanalytic technique. The breadth and depth of this is very impressive with the rigour we have come to expect from this author. But it is not only a scholarly survey it is 'at the same time' and 'on another level' a personal pilgrim's progress with Wilfred Bion as 'Pilgrim's' principal companion. It is a testimony to its author's voracious appetite for exploration and discovery and he very generously offers us his findings; an offer that should not be refused by all interested in contemporary psychoanalysis.'
- Ronald Britton, author of Sex, Death and the Superego and Belief and Imagination

'This is both a textbook, and a personal journey. James Grotstein is an eminent writer on Kleinian ideas. With all his experience over fifty years as a practitioner, and theoretician, he reflects back on the changing faces of psychoanalysis.'
- R.D. Hinshelwood, author of Clinical Klein and A Dictionary of Kleinian Thought

About the Author(s)
James S. Grotstein, M.D. was Professor of Psychiatry, U.C.L.A School of Medicine, and a training and supervising analyst at the Los Angeles Psychoanalytic Institute and at The Psychoanalytic Centre of California. He was a member of the editorial board of the International Journal of Psychoanalysis and was past North American Vice-President of the International Psychoanalytical Association. He published over 250 papers and was the author or editor/co-editor of numerous books.
Customer Reviews
Our customers have given this title an average rating of 5 out of 5 from 1 review(s), add your own review for this title.
Mikael Bergkvist on 10/07/2009 08:41:25





(5 out of 5)
The author navigates the reader with elegance through the Kleinian/Bionian landscape. This book, together with volume 2, is in the absolute frontline of modern psychoanalysis.
You may also like