Black Skin, White Masks
Also by Frantz Fanon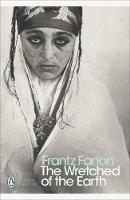 Few modern voices have had as profound an impact as Frantz Fanon. A major influence on civil rights, anti-colonial, and black consciousness movements around the world, Black Skin, White Masks is an unsurpassed study of the black psyche in a white world. Hailed for its scientific analysis and poetic grace when it was first published in 1952, it established Fanon as a revolutionary thinker and remains just as relevant and powerful today.
Reviews and Endorsements
This century's most compelling theorist of racism and colonialism - Angela Davis

Fanon is our contemporary because when he psychoanalysed the way the French coloniser looked at Arabs, he is also describing the way the police looked at Stephen Lawrence. In clear language, in words that can only have been written in the cool heat of rage, Fanon showed us the internal theatre of racism, and how some of us have been staged in its psychodrama - Deborah Levy, The Independent.

A brilliant, vivid and hurt mind, walking the thin line that separates effective outrage from despair. . . He demonstrates how insidiously the problem of race, of color, connects with a whole range of words and images. . . It is Fanon the man, rather than the medical specialist or intellectual, who makes the book so hard to put down - Robert Coles, New York Times Book Review.
About the Author(s)
Frantz Fanon (1925-1961) was born in Martinique and studied medicine in France, specializing in psychiatry. Sent to a hospital in Algeria, he found his sympathies turning towards the Algerian Nationalist Movement, which he later joined. He is considered one of the most important theorists of the psychology of race and his books Black Skin, White Masks and The Wretched of the Earth have been extremely influential.
You may also like