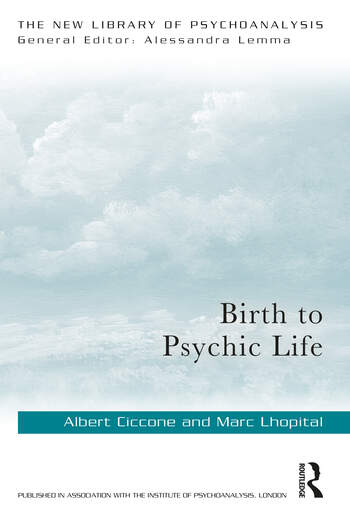 Book Details
Publisher : Routledge
Published : March 2022
Cover : Paperback
Pages : 412
Category :
Psychoanalysis
Catalogue No : 96297
ISBN 13 : 9781032013718
ISBN 10 : 1032013710
Based on rich clinical experience and on theory from numerous psychoanalytical works, this book explores and analyses the emergence and development of the psychic life.
Birth to Psychic Life explores the genesis of the psychic apparatus, reconstructs the development of subjectivity, with its ups and downs in babies as in all subjects, and studies the relationship between mental states at the dawn of psychic life and those characteristic of psychopathology. The book refers to Freudian, Kleinian and post-Kleinian works, proposing articulations between the different theoretical models. The referenced works' contributions to the understanding of early psychic disorders, as well as to the implications of infantile psychic suffering in adulthood, are essential. The authors identify the 3 psychic constellations, recognized by many, that accompany the psychic birth and suggest new more adequate names in view of current works on subjectivity: the auto-sensual position, the symbiotic position and the depressive position. Many other new and original proposals are developed by the authors.
Providing tools to think about the processes of psychic growth, this book will be of interest to all psychoanalysts and psychotherapists working with infants and interested in the impact of early psychic development throughout life.
About the Author(s)
Albert Ciccone is a psychologist, psychoanalyst amd professor of psychopathology and clinical psychology at the Université Lumière-Lyon 2. France. He is also founder and president of the Association lyonnaise pour une psychanalyse à partir de la clinique de l'enfant (ALPACE).
Marc Lhopital is a psychoanalyst, member of the Paris Psychoanalytical Society (IPA), France; clinical psychologist and member of the European Society for Child and Adolescent Psychoanalysis (SEPEA).
You may also like