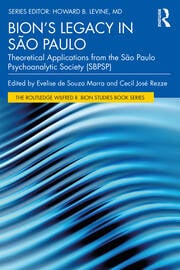 Book Details
Publisher : Routledge
Published : February 2022
Cover : Paperback
Pages : 194
Category :
Psychoanalysis
Catalogue No : 96296
ISBN 13 : 9780367774745
ISBN 10 : 0367774747
This collection illuminates the legacy of Wilfred R. Bion in Brazil, illustrating Bion's continued influence on the work of the Sao Paulo Psychoanalytic Society (SBPSP), how Bionian ideas are applied in contemporary psychoanalysis, and how current practice has evolved over time.
Evelise de Souza Marra and Cecil Jose Rezze bring together theoretical and clinical approaches to provide a thorough perspective on Bionian work in Brazil. The book includes chapters by senior analysts, well-respected teachers and analytic clinicians in contemporary Brazilian psychoanalysis, each of which explores a topic central to Bion's formulations. With discussion of key themes including turbulence, emotional experience, transference, caesura and mental pain, this book demonstrates how Wilfred R. Bion's thought has been developed, transformed and applied in Brazil since his visits there in the 1970s.
Bion's Legacy in Sao Paulo will be of great interest to psychoanalysts in practice and in training, particularly those looking to understand Bion's influence in more depth, and for anyone interested in the practice of psychoanalysis in Latin America.
Reviews and Endorsements
Bion's contributions to psychoanalytic technique are complex, innovative, profound and deserve intense and repeated studies. His formulations represent the most radical paradigm shift in psychoanalysis
James Grotstein
Table of Contents
1. From Learning from Emotional Experience to Wild Thoughts. Turbulence!

Cecil José Rezze

2. Me and the Other in the Analysis Room

Antonio Carlos Eva

3. Contributions of Bion's Thought to the Theory and Techniques of Contemporary Psychoanalysis

Alicia Beatriz Dorado de Lisondo

4. α□Function: Catastrophic Anxiety – Panic – Container with Reverie

Antonio Sapienza

5. Learning from Emotional Experience and the Grid: Theory and Practice

Cecil José Rezze

6. Emotion, Non-Emotion and Analyst Language

Celia Fix Korbivcher

7. Clinical Use of Myths in Psychoanalysis: Myth, Psychoanalysis and Psychic Reality

Celso Antonio Vieira de Camargo

8. Issues Related to "Cure," "Improvement," "Normality" and "Abnormality": Psychoanalysis and Psychotherapies

Claudio Castelo Filho

9. α□Function 1 Psychoanalysis: An Investigation Process (On the Quality of Presence in Analytical Sessions: Models)

Cícero José Campos Brasiliano

10. Transference – Transformations

Evelise de Souza Marra

11. Complementarity and Clinical Practice

Isaias Kirschbaum

12. Empowered by Failure – Vicissitudes of Transformations

João Carlos Braga

13. Interpretation: Limits and Ruptures of a Concept and a Practice

Júlio Frochtengarten

14. The "Squabble" (prise de Bec) between Beckett and Bion: The "Experimental" Insight in the Glaring Darkness

Luiz Carlos Uchoa Junqueira Filho

15. Caesura and Mental Pain

Luiz Tenório Oliveira Lima

16. Apprehending Psychoanalysis with Bion

Odilon de Mello Franco Filho

17. Extensions in the Realm of Minus

Paulo Cesar Sandler

18. From Transference and Countertransference to Emotional Experience in Transformations

Stela Maris Garcia Loureiro
You may also like