Book Details
Publisher : Routledge
Published : December 2021
Cover : Paperback
Pages : 140
Category :
Psychoanalysis
Catalogue No : 96195
ISBN 13 : 9781032149097
ISBN 10 : 9781032149
Also by Judy Eekhoff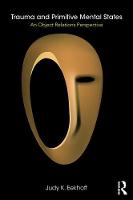 This clinically focused book explores W. R. Bion's thinking on primitive and unrepresented mental states and shows how therapists can work effectively with traumatized patients who are difficult to reach.
The author illuminates how trauma survivors suffer from direct access to primal undifferentiated positions of the psyche that lie outside the symbolic order of the mind and are resistant to treatment. This access, unmediated by symbolic representation but represented in the body, disrupts the normal trajectory of development and of relationship. Integrating theory and clinical application, the book addresses processes of symbolization, somatic receptivity, and the use of countertransference when working therapeutically with undeveloped areas of the mind. It also demonstrates how primitive body relations and object relations include the body of the analyst as part of the analytic frame and are essential in establishing a therapeutic alliance.
Illustrated with detailed clinical vignettes, Bion and Primitive Mental States is important reading for psychoanalysts, psychologists, social workers, and educators who wish to understand primitive states of mind and body in patients who have previously been considered untreatable.
Reviews and Endorsements
"It is sometimes asked 'would you refer a member of your family to this analyst?' The answer is 'yes'. Eekhoff knows what she is doing and she is naturally kind. She is a good person to learn from. Trauma damages a person's boundaries and therapists need the technical knowledge to understand the patient's necessary projections and introjections. Eekhoff is also very very interesting, in part because she is so interested in the people who have gone before her – in particular, W.R. Bion." - Nicola Abel-Hirsch, training and supervising analyst of the British Psychoanalytic Society, she has written numerous papers and presentations and is the author of Bion: 365 Quotes

"Judy K. Eekhoff is clearly a unique clinician who endeavors to help her patients become the unique persons they are. This book offers us profound and moving accounts of analytic processes, illustrating patient and analyst in their painful struggle to bear emotional truth and so achieve a measure of relief from lifelong suffering. Creatively integrating the thinking of Bion, Ferenczi, Klein and Meltzer, Eekhoff explores primal, encapsulated states of mind, which have remained outside of verbal language, seemingly inaccessible, threatening to collapse into meaninglessness and nothingness. The author suggests a mode of analytic listening, deeply rooted in the analyst's emotional experience, which can aid those who venture the encounter with these mental realms." - Avner Bergstein, training and supervising psychoanalyst, Israel Psychoanalytic Society, author of Bion and Meltzer's Expeditions into Unmapped Mental Life: Beyond the Spectrum in Psychoanalysis

"Dr. Judy Eekhoff's new book, Bion and Primitive Mental States: Trauma and the Symbiotic Link, is a carefully composed volume that offers the reader a sweeping overview of contemporary psychoanalysis, especially the profound influence of the work of Wilfred Bion. Building on her recent (2019) book, Trauma and Primitive Mental States: An Object Relations Perspective, Dr. Eekhoff deepens our understanding of traumatic experience through her discussions of the accumulated wisdom of Ferenczi, Klein, Bion and Meltzer. These theoretical contributions are amplified by many clinical vignettes that deepen the reader's appreciation of her valuable contributions to contemporary analytic thinking. An excellent book that I highly recommend." - Lawrence J. Brown, PhD, author of Transformational Processes in Clinical Psychoanalysis: Dreaming, Emotions and the Present Moment

"Bion and Primitive Mental States: Trauma and the Symbiotic Link is a wonderful contribution both to the study of unrepresented states of mind and to the development of post-Bionian psychoanalysis. A central point of reference is clinical work in the light of theory and expanding theory in the light of clinical experience; we see here a strong reaffirmation of Freud's basic principle of Junktim (the inseparable bond). This is what makes psychoanalysis a unique discipline and distinct from other universes of discourse that also aim at saying something about what constitutes the essence of humanity. 

Judy K. Eekhoff explores systematically the domain of the non-repressed unconscious, of emotional linking and primitive somatic affects. In doing so she uses a clear and very effective style of language. Dealing with trauma, she does not follow at all current trends in psychoanalysis that emphasize trauma per se, neglecting psychic reality. What we learn about these extreme states of suffering, sometimes resistant to treatment, guide us with all of our patients, no matter the severity of their illness. A very modern concept of truth (for Bion the food that nourishes the mind and makes it grow) as inherently intersubjective is the focus of the analytic session. Capacity for suffering; vitality inside the session and outside; Bion's concept of transformation as opposed to Freud's of distortion; these are, among others, issues that Eekhoff deals with brilliantly. Reading Bion and Primitive Mental States: Trauma and the Symbiotic Link reasserts our 'faith' and gratitude for the psychoanalytic method. Anyone involved in the field of mental health will find it an extraordinary tool for thinking and work." - Giuseppe Civitarese, author of Sublime Subjects: Aesthetic Experience and Intersubjectivity in Psychoanalysis

"The unarticulated language of trauma is mostly heard through its suffering, a suffering the analyst joins. It is the thread that runs through this book. It provides the reader an opportunity to join Dr. Eekhoff in the experience of the nature of unarticulated emotional pain. She is guided through this journey by W.R. Bion who created so much out of his own experiences of suffering. Dr Eekhoff is inviting us to join her in her journey; a profoundly personal and meaningful aesthetic experience." - Elie Debbane, training and supervising analyst, Northwestern Psychoanalytic Society & Institute and the Canadian Institute of Psychoanalysis.

"In Bion and Primitive Mental States: Trauma and the Symbiotic Link, Dr. Judy Eekhoff shares her experience of having studied Bion's work for forty years. She describes never tiring of re-reading Bion's writing, a telling fact that reveals how much Bion leaves for readers to bring their own imaginations, understanding, and questions to his ideas. I think it is difficult, without this kind of curiosity about truth that Eekhoff embodies, to get an idea of Bion's challenging perspective on the mind.

Dr. Eekhoff's approach helps in understanding how Bion's advances in psychoanalysis continue to pose new challenges for psychoanalysts, requiring new ways of approaching clinical work. These are important ideas about how to find a language able to reach the primitive levels of the mind that Bion addressed. By examining Ferenczi's ideas about early trauma in relation to Bion's ideas, Dr. Eekhoff reminds us of this notable and original thinker who is sometimes overlooked in psychoanalysis. This interesting and important book challenges us all to look more deeply into Bion, and into our own work." Dr. Annie Reiner, training and supervising analyst at the Psychoanalytic Center for Psychoanalysis and the author of Bion and Being
About the Author(s)
Judy K. Eekhoff, PhD, FIPA, is an IPA-certified training and supervising psychoanalyst in Seattle, Washington, USA. She is the author of Trauma and Primitive Mental States: An Object Relations Perspective.
You may also like