Beyond Fragmentation: Clinical Journeys in Contemporary Psychoanalysis and Psychotherapy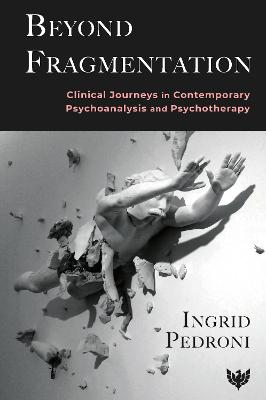 Book Details
Publisher : Phoenix Publishing House
Published : October 2022
Cover : Paperback
Pages : 304
Category :
Forthcoming
Category 2 :
Psychoanalysis
Catalogue No : 96691
ISBN 13 : 9781800131163
ISBN 10 : 9781800131
'Profoundly honest, unflinching in examining her own history as a thinker and clinician, Ingrid Pedroni challenges us to see where we have been and where we have failed, each of us.' Donna Orange, from the Foreword
Ingrid Pedroni is multicultural to her core. Fully fluent in German, Italian, and English, she took that multilingual outlook to the varied world of psychoanalysis. Beginning her journey with a Jungian analysis, she later read The Restoration of the Self by Heinz Kohut and discovered a theoretical and clinical framework consistent with her Jungian experience. Thus began her engagement with different theoretical dimensions and clinical settings. Beyond Fragmentation is a masterly overview of the result of her open-minded exploration of not only traditional and contemporary psychoanalytic schools of thought, but also systemic family therapy, plus modern anthropology, theatre, and literature.
Part I explores the integration of different theoretical and clinical models, with special reference to self psychology and relational psychoanalysis. Part II outlines significant areas of experience that build the sense of self and how it is represented in intra-psychic and inter-relational dimensions. Part III focuses on couple and family relations, their evolution over time, and how they represent an essential part of the self. The final part deals with the treatment of cultural diversity, the universality of attachment bonds, and the extreme specificity of their cultural expression. Throughout the book are clinical and theoretical concepts derived from authors such as Adler, Jung, Rank, Fromm, Ferenczi, Klein, Winnicott, Loewald, Bowlby, Bion, and, of course, Freud.
The clinical examples illustrate how it is possible to weave together the various threads of theoretical thinking and clinical practice not only in the many diversified psychoanalytic schools, but also in the larger field of the psychotherapies. The varied themes covered include gender, couple relations, family therapy, spirituality, cultural diversity and integration, migration, transcultural psychotherapy, and collective trauma. This book is essential reading for trainee and practising clinicians, and may well help them to find their own integration of therapeutic experiences. Professionals active in social, educational, and psychological fields will also find much useful and engaging information to help them in their work.
About the Author(s)
Ingrid Pedroni worked in a major trade union in Italy and then as an economic analyst engaged in international forecasts in an Italian state company. In this position, she became vice-president of the Economists' Group, an international association of professional economists. In the 1990s, she started her training as a family psychotherapist and as a child and adolescent analyst at the Institute for Infancy Neuropsychiatry at the Rome University La Sapienza. She is in private practice as a relational and self-psychology analyst and is a member of the Isipse Institute, of the International Association of Relational Psychoanalytic Psychotherapy, and of the International Association of Psychoanalytic Self Psychology.

In 2005, she became president of the Isipse School for Psychotherapy, where she is still engaged as a teacher of self psychology and transcultural psychotherapy and a supervising analyst in Rome and Milan. She has been president of Vivere Altrove, an association of professionals, psychotherapists, anthropologists, social assistants, and mediators, operating in the field of intercultural interventions and cooperating with the United Nations Organization for Migration.
You may also like