Beyond Fragmentation: Clinical Journeys in Contemporary Psychoanalysis and Psychotherapy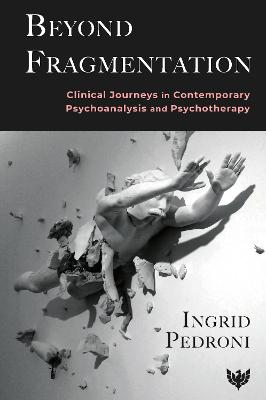 Book Details
Publisher : Karnac Books
Published : February 2023
Cover : Paperback
Pages : 304
Category :
Psychoanalysis
Category 2 :
Individual Psychotherapy
Catalogue No : 96691
ISBN 13 : 9781800131163
ISBN 10 : 9781800131
'Profoundly honest, unflinching in examining her own history as a thinker and clinician, Ingrid Pedroni challenges us to see where we have been and where we have failed, each of us.' Donna Orange, from the Foreword.
Ingrid Pedroni is multicultural to her core. Fully fluent in German, Italian, and English, she took that multilingual outlook to the varied world of psychoanalysis. Beginning her journey with a Jungian analysis, she later read The Restoration of the Self by Heinz Kohut and discovered a theoretical and clinical framework consistent with her Jungian experience. Thus began her engagement with different theoretical dimensions and clinical settings. Beyond Fragmentation is a masterly overview of the result of her open-minded exploration of not only traditional and contemporary psychoanalytic schools of thought, but also systemic family therapy, plus modern anthropology, theatre, and literature.
Part I explores the integration of different theoretical and clinical models, with special reference to self psychology and relational psychoanalysis. Part II outlines significant areas of experience that build the sense of self and how it is represented in intra-psychic and inter-relational dimensions. Part III focuses on couple and family relations, their evolution over time, and how they represent an essential part of the self. The final part deals with the treatment of cultural diversity, the universality of attachment bonds, and the extreme specificity of their cultural expression. Throughout the book are clinical and theoretical concepts derived from authors such as Adler, Jung, Rank, Fromm, Ferenczi, Klein, Winnicott, Loewald, Bowlby, Bion, and, of course, Freud.
The clinical examples illustrate how it is possible to weave together the various threads of theoretical thinking and clinical practice not only in the many diversified psychoanalytic schools, but also in the larger field of the psychotherapies. The varied themes covered include gender, couple relations, family therapy, spirituality, cultural diversity and integration, migration, transcultural psychotherapy, and collective trauma. This book is essential reading for trainee and practising clinicians, and may well help them to find their own integration of therapeutic experiences. Professionals active in social, educational, and psychological fields will also find much useful and engaging information to help them in their work.
Reviews and Endorsements
This is an important and most welcome book because it develops not only innovative ways of conceptualising and working therapeutically in general, but also it demonstrates how the approach that it constructs can be applied to contexts beyond the conventional psychotherapy settings, including areas such as traumas of wars and migration. Using epistemological insights, in an accessible language, the author builds bridges across theoretical directions, linking theory to practice (with ample clinical material, respectfully presented), the intra-psychic with the inter-relational realms and the traditional therapies with cultural and religious beliefs. Above all, the book is written with sensitivity and compassion for both patients and therapists, and it will be invaluable not only for professional therapists and trainees but also for everyone who wishes to delve deeper into the human psyche in distress.
Professor Renos K. Papadopoulos, PhD, University of Essex, clinical psychologist, Jungian psychoanalyst, family therapist

It is my pleasure to write in support of Ingrid Pedroni's outstanding publication, Beyond Fragmentation: Clinical Journeys in Contemporary Psychoanalysis and Psychotherapy. It is a book that addresses the most important issues in clinical work from past to present, and, most significantly, leads us into a future of integration and dedication to the best in our field. As noted in the title of her Introduction, "Widening clinical practice in relation to other therapeutic schools as the future of psychoanalysis", Pedroni begins with her own valuing of knowing the past and noting its movement into the present and what is to come. To provide some sense of the scope of the work, Pedroni follows with sections on: building therapeutic bridges, the search for subjectivity, working with couples, parents, families, transcultural psychotherapy, and, finally, the treatment of trauma in individuals and groups suffering migration and war. Throughout there are elegant clinical examples. I find much that is original here, but I'm most impressed by Pedroni's chapter on Talking with God, in which she discusses "spirituality and religion in the therapeutic encounter". This seldom-addressed aspect of therapeutic work illustrates, to my mind, the expansiveness of Pedroni's inclusive attention to contemporary psychoanalysis and psychotherapy. I'm grateful for this opportunity to reflect on Ingrid Pedroni's contribution to our understanding.
Estelle Shane, PhD, training and supervising analyst, The Institute of Contemporary Psychoanalysis and the New Center for Psychoanalysis, Los Angeles

Beyond Fragmentation is a true tour de force – a must-read for psychoanalytic clinicians and thinkers of all persuasions. Ingrid Pedroni has produced an amazingly comprehensive body of work that mirrors its author's own developmental journey both personally and theoretically. Her book threads its way through the retrospective and the prospective and their intersections as she traverses and assimilates psychoanalytic theories, pressing cultural concerns and trauma from the individual to the collective. Her numerous and compelling clinical illustrations that are woven throughout cannot but stir the reader's mind and heart. The book highlights her deep wisdom and humility as she models an attitude of openness and an abiding readiness to keep learning from students and patients, from colleagues and teachers, and from ongoing life lessons that instruct and humble us, even as they urge us to keep moving, to keep thinking and above all to keep feeling. Ingrid Pedroni's Beyond Fragmentation will inspire, vitalise and richly inform the work of all clinicians and psychoanalytic thinkers.
Hazel Ipp, Toronto Institute of Contemporary Psychoanalysis, ISIPSÉ, chief editor emerita of 'Psychoanalytic Dialogues'

Beyond Fragmentation is a remarkable achievement. The use of diverse clinical experiences at its finest. Ingrid Pedroni integrates self psychology and relational psychoanalysis and makes comparisons among therapy schools that are lucid and, at times, magisterial. She captures the radical changes that are taking place in psychoanalytic epistemology, the search for "the creation of oneself", culture and religion, and the dangers of either/or thinking about gender. She brings us close to the subtle, interpenetrating impact of couples, parents, and families on the individual self. Her thinking about how culture saturates one's subjectivity is bold and inspiring, and ranges from individual to collective traumas. Pedroni's writing resonates with the tensions and triumphs of the contemporary psychoanalytic moment, and likely will for another generation, if not beyond.
Spyros D. Orfanos, PhD, ABPP, Director and Clinical Professor, New York University Postdoctoral Program for Psychotherapy and Psychoanalysis

Profoundly honest, unflinching in examining her own history as a thinker and clinician, Ingrid Pedroni challenges us to see where we have been and where we have failed, each of us.
Donna M. Orange, faculty and supervising analyst, Institute for the Psychoanalytic Study of Subjectivity, New York, from the Foreword
Table of Contents

Acknowledgements
About the author
Foreword
The structure of the book

Introduction: Widening clinical practice in relation to other therapeutic schools as the future of psychoanalysis

Part I: The need to build therapeutic bridges
1. From drives to relations through culture, the new epistemological paradigm of psychoanalysis
2. Beyond Freud: a contemporary integrative approach to obsessive-compulsive disorder
3. Integrating self psychology and relational psychoanalysis

Part II: The search for subjectivity
4. Creating the self
5. Talking with God: spirituality and religion in the therapeutic encounter
6. Gender identity and subjectivity

Part III: Couples, parents, families: multiple relational dimensions, multiple selves, and sometimes multiple therapists in coordinated treatment
7. The life cycle of the couple relation
8. Couples of spouses and couples of therapists in the dialectic of mutual recognition
9. Family relations in therapy

Part IV: Transcultural psychotherapy and the treatment of individual and collective traumas of migration and wars
10. Transcultural psychotherapy
11. Migrations: cultural mourning and cultural contaminations
12. War, trauma, memory, and resilience

Concluding remarks
References
Index
About the Author(s)
Ingrid Pedroni worked in a major trade union in Italy and then as an economic analyst engaged in international forecasts in an Italian state company. In this position, she became vice-president of the Economists' Group, an international association of professional economists. In the 1990s, she started her training as a family psychotherapist and as a child and adolescent analyst at the Institute for Infancy Neuropsychiatry at the Rome University La Sapienza. She is in private practice as a relational and self-psychology analyst and is a member of the Isipse Institute, of the International Association of Relational Psychoanalytic Psychotherapy, and of the International Association of Psychoanalytic Self Psychology.

In 2005, she became president of the Isipse School for Psychotherapy, where she is still engaged as a teacher of self psychology and transcultural psychotherapy and a supervising analyst in Rome and Milan. She has been president of Vivere Altrove, an association of professionals, psychotherapists, anthropologists, social assistants, and mediators, operating in the field of intercultural interventions and cooperating with the United Nations Organization for Migration.
You may also like