Betrayal: Developmental, Literary, and Clinical Realms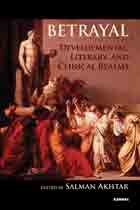 Book Details
Publisher : Karnac Books
Published : June 2013
Cover : Paperback
Pages : 248
Category :
Psychoanalysis
Catalogue No : 34202
ISBN 13 : 9781782200154
ISBN 10 : 1782200150
Also by Salman Akhtar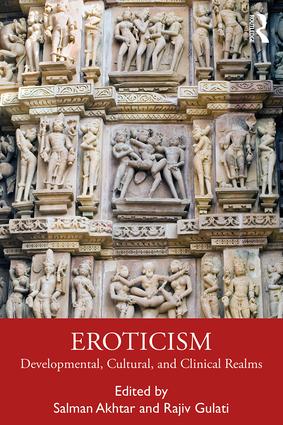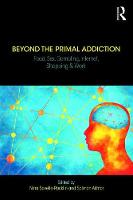 Betrayal underlies all psychic trauma, whether sexual abuse or profound neglect, violence or treachery, extramarital affair or embezzlement. When we betray others, we violate their confidence in us. When others betray us, they pierce the veil of our innocent reliance. Betraying and feeling betrayed are ubiquitous to the scenarios of trauma and yet surprisingly neglected as a topic of specific attention by psychoanalysis.
This book fills this gap. The first part deals with developmental aspects and notes that while the experience of betrayal might be ubiquitous in childhood, its lack of recognition by the parents is what leads to fixation upon it. Attention is also given to Oedipally-indulged and seduced children who feel betrayed later in the course of their development. Feelings of betrayal during early adolescence are also discussed. This section of the book closes with an account of situations where our bodies betray us. The realms of body image betrayal, body self betrayal, and the body's ultimate betrayal via physical death are addressed.
The second part deals with literature and elucidates the myriad ways in which the theme of betrayal appears in Shakespeare's writings and in Oscar Wilde's poem The Ballad of Reading Gaol. The final part pertains to clinical matters and has chapters on the compulsion to betray others and the unconscious need to be betrayed, the betrayal of a sacred trust in the form of childhood sexual abuse, extra-marital affairs, and the betrayal of patients by their analysts in the form of boundary violations. In this last-mentioned situation, severe damage occurs not only to the analyst, to the particular patient whose boundaries he has violated, but also to other patients who hear about the transgression from the 'grapevine.' This chapter is a 'must-read' for all training institutes and especially their ethics committees. These thumb-nail sketches of the book's chapters are intended to whet the reader's appetite. Obviously, there is more texture, more substance, and more heuristic and technical material in their individual entirety.
Reviews and Endorsements
'Given the prominence in the Western cultural imagination of such victims of betrayal as Oedipus and Jesus, and given Freud's own sense of betrayal by the likes of Adler, Jung, Rank and others, it is surprising that this topic has received so little attention in the psychoanalytic literature. Perhaps the theme of betrayal has been just too close to home. Salman Akhtar's illuminating essay on the compulsion to betray and the need to be betrayed forms the centerpiece of this collection of insightful papers that approach this important topic from developmental, literary and clinical perspectives.'
- Donald L. Carveth, PhD, Emeritus Professor of Sociology and Social & Political Thought, York University; Director, Toronto Institute of Psychoanalysis

'With characteristic poignancy and poeticism, Salman Akhtar and his contributors signify betrayal, mine its phenomenology, decipher its scars, and formulate the fixations and transmissions patterned in its wake. Incisive and broadly humane, these essays lead us to sites of corruption and the particular ways they "pierce the veils of our innocent reliance". Read this book and wander through the realms of human treachery. Though often disturbing, you will be a better clinician for it.'
- Andrea Celenza, PhD, Assistant Clinical Professor at Harvard Medical School, Faculty at the Boston Psychoanalytic Society and Institute and Massachusetts Institute for Psychoanalysis
About the Editor(s)
Salman Akhtar, MD, was born in India and completed his medical and psychiatric education there. Upon arriving in the USA in 1973, he repeated his psychiatric training at the University of Virginia School of Medicine, and then obtained psychoanalytic training from the Philadelphia Psychoanalytic Institute. Currently, he is Professor of Psychiatry at Jefferson Medical College and a training and supervising analyst at the Psychoanalytic Center of Philadelphia. He has authored, edited or co-edited more than 300 publications including books on psychiatry and psychoanalysis and several collections of poetry. He is also a Scholar-in-Residence at the Inter-Act Theatre Company in Philadelphia. Salman Akhtar received the Sigourney Award in 2012.
You may also like