Being Supervised: A Guide for Supervisees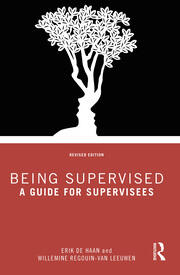 Book Details
Publisher : Routledge
Published : January 2023
Cover : Paperback
Pages : 128
Category :
Individual Psychotherapy
Category 2 :
Supervision
Catalogue No : 96930
ISBN 13 : 9781032382203
ISBN 10 : 9781032382
Also by Erik De Haan
Being Supervised: A Guide for Supervisees provides a complete introduction to help supervisees and supervisors to get the most out of supervision and reap its unique and substantial benefits.
De Haan and Regouin-van Leeuwen present a didactic method that enables professionals in the helping professions to convert insights and experiences into greater professional competence. Presented in three parts, the book approaches theory, methods, and practice from the supervisee's perspective, answering questions such as: What is supervision? How does it work? What's the benefit? Part I provides a concise exploration which introduces supervision to future supervisees, Part II is addressed to novice supervisees and examines the supervisory process based on its three main stages, and Part III is focused mainly on advanced supervisees. This fully updated and revised edition includes practical exercises that supervisees and supervisors can use in the preparation of their supervisory journey, taking into account extensive feedback from teachers and supervisors who regularly work with the book, and updates to Ashridge's Code of Conduct for Supervisors.
Being Supervised will be essential reading for any helping professional beginning supervision or looking to understand more about the process, and for supervisors. It will be particularly relevant for psychotherapists, counsellors, coaches, and psychoanalysts in training.
Reviews and Endorsements
"Being Supervised is a refreshing blend of being both practical and philosophical in approach. As we move through the book, we are introduced to the history of the profession, the 'how to' for supervisees with anecdotal evidence and as we progress, we are invited to reflect in a much deeper way into what thought is, thinking styles, learning, how we learn, all within the context of supervision. On concluding the book, the reader has taken a deep dive into the power and importance of supervision as a resource for anyone working in the caring professions." - Louise Schubert, Executive Coach, Group Facilitator, Mentor and Coach Supervisor, Spain
About the Author(s)
Erik de Haan is a Senior Consultant at Ashridge Consulting at Ashridge Management School. He was previously a consultant in the Netherlands and researcher at the University of Utrecht. He has written more than 150 articles and eleven books in different languages, among which are Fearless Consulting, Relational Coaching, Supervision in Action, and Pocketbook Team Coaching. The Dutch edition of his book Learning with Colleagues has been a bestseller in the Netherlands and he has also written a book on the importance of Shakespeare's King Lear for managers.
Willemine Regouin-van Leeuwen was a supervisor and educator of supervisors in the Netherlands for many decades. Regouin-van Leeuwen also taught philosophy and published the first edition of this book in 1991.
You may also like