Behavioral Activation for Depression: A Clinician's Guide: Second Edition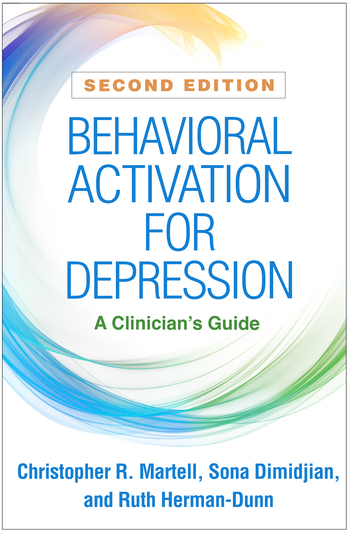 Book Details
Publisher : Guilford Press
Published : February 2022
Cover : Paperback
Pages : 241
Category :
Clinical Psychology
Catalogue No : 96202
ISBN 13 : 9781462548385
ISBN 10 : 9781462548
Also by Christopher R. Martell

Also by Sona Dimidjian
Noted for its clarity and practical utility, the definitive guide to behavioral activation (BA) is now in a revised and expanded second edition. The authors are leading experts who enumerate BA principles and provide guidelines for assessment and intervention. Clinicians learn effective procedures for structuring each session, identifying and scheduling antidepressant activities, targeting avoidance and rumination, and monitoring progress. Illustrated with an extended case example, sample dialogues, and quick-reference tables, the book features 16 reproducible worksheets and forms. Purchasers get access to a Web page where they can download and print the reproducible materials--plus a supplemental client booklet--in a convenient 8 1/2" x 11" size.
New to This Edition
*Reflects a decade of advances in research, clinical practice, and training.
*Chapter on transdiagnostic applications and new treatment settings.
*Four additional reproducible appendices: measures of BA client progress and therapist treatment fidelity.
*Supplemental downloadable booklet: A Client's Guide to Behavioral Activation.
About the Author(s)
Sona Dimidjian, PhD, a clinical psychologist, is Director of the Renee Crown Wellness Institute and Professor in the Department of Psychology and Neuroscience at the University of Colorado Boulder. She is a widely recognized expert on women's mental health; the clinical application of contemplative practices, such as mindfulness meditation; and cognitive and behavioral approaches. She has developed successful prevention and treatment programs to promote mental health and wellness in health care, education, and community settings. Dr. Dimidjian is a recipient of multiple awards and the author of widely cited scholarly papers. She is coauthor of the self-help resource Expecting Mindfully as well as Behavioral Activation for Depression and Behavioral Activation with Adolescents (for mental health professionals).
You may also like