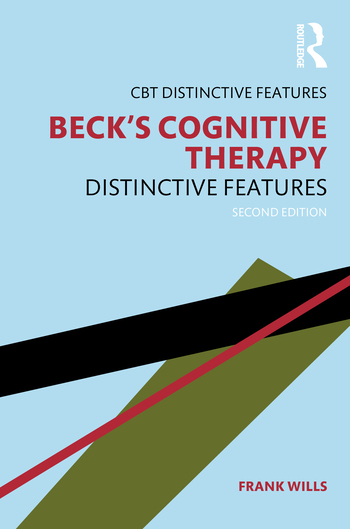 Book Details
Publisher : Routledge
Published : September 2021
Cover : Paperback
Pages : 175
Category :
Cognitive-Behavioural Therapies
Catalogue No : 95808
ISBN 13 : 9780367519476
ISBN 10 : 9780367519
Also by Frank Wills

Beck's Cognitive Therapy explores the key contributions made by Aaron T. Beck to the development of cognitive behaviour therapy.
The book describes the development of the unique model of therapy developed by Professor Aaron. T. Beck and his daughter, Dr. Judith. S. Beck. The first part on theory explains how the Becks understand psychological problems. The second part on practice describes the main methods and skills that have evolved in cognitive therapy.
Updated throughout to include recent developments, this revised edition will be ideal for both newcomers and experienced practitioners.
Reviews and Endorsements
In this important and highly accessible contribution to the Distinctive Features series, Dr Wills eruditely presents the history and core features of Beck's seminal theory. The book covers the central and inspiring components of Beck's model and therapy, referencing their wider context and impact. - Adrian Wells, Professor of Clinical and Experimental Psychopathology University of Manchester, UK.

Cognitive ideas and methods have the potential to make an invaluable contribution to the work of any counsellor or psychotherapist. In this engaging, accessible, and clearly-laid out book, Frank Wills introduces us to the essential ideas behind cognitive practice, and how these ideas can be applied effectively within a warm, collaborative, and empowering therapeutic relationship. - Mick Cooper, Professor of Counselling Psychology, University of Roehampton.

Frank Wills is a well-known and highly regarded author and this book will benefit both trainee counsellors and psychotherapists and experienced practitioners. While focussing on Beck's model of CBT, the acknowledgement of the contributions of psychoanalysis and person-centred theories to CBT is refreshing and will significantly help practitioners who seek to integrate CBT into their practice to do so. - Sue Wheeler, Professor, University of Leicester.

The book succeeds admirably in placing Beck's work in the wider therapeutic context, and addresses both the science and art of CBT. Frank Wills brings his own insights and personal touches to the writing, and the result is both wise and humane. - Neil Frude, Consultant Clinical Psychologist and Honorary Professor, Cardiff University and the University of South Wales.
About the Author(s)
Frank Wills is an independent cognitive psychotherapist in Bristol, and a tutor at the University of Wales, Newport.
You may also like